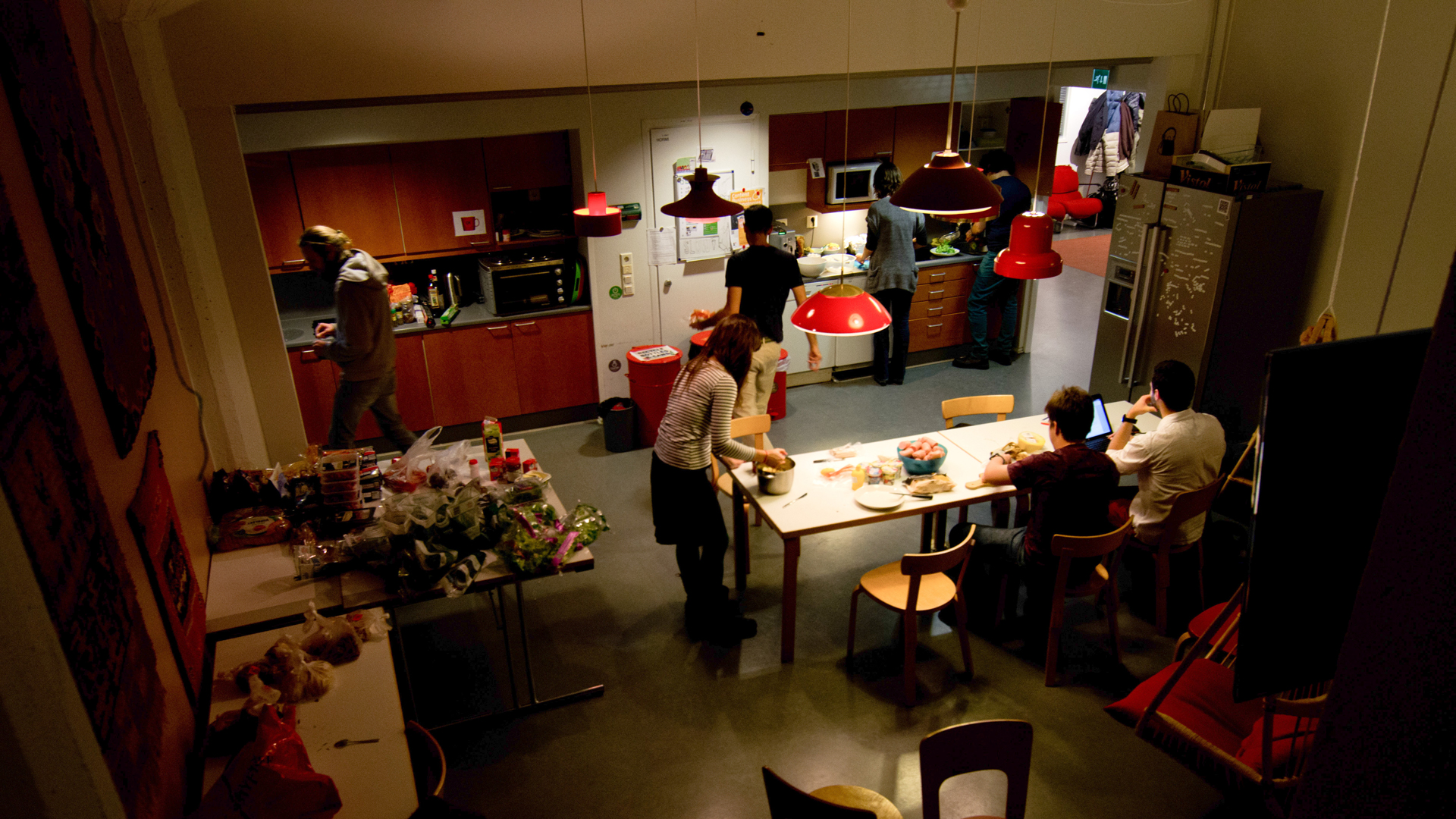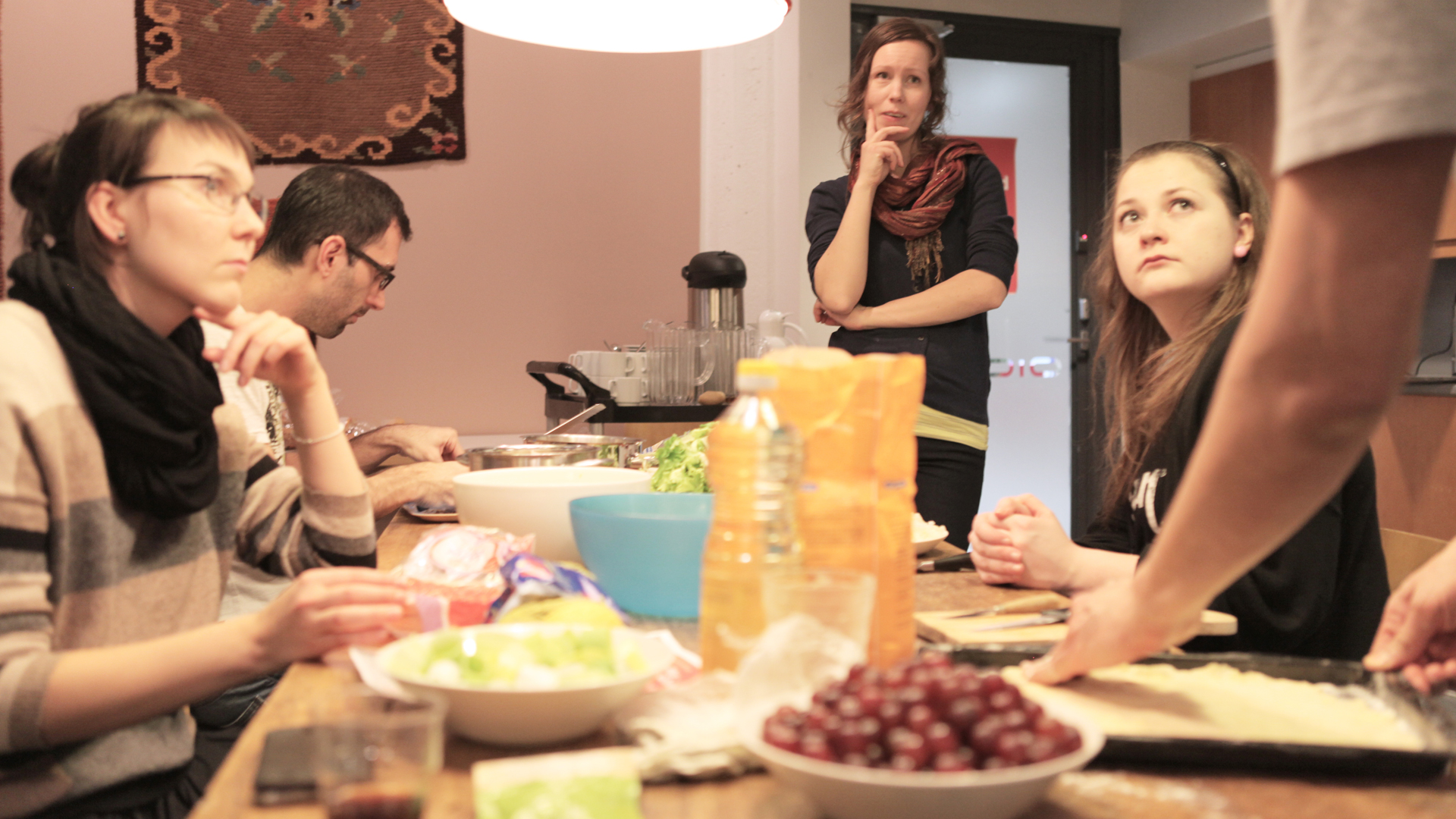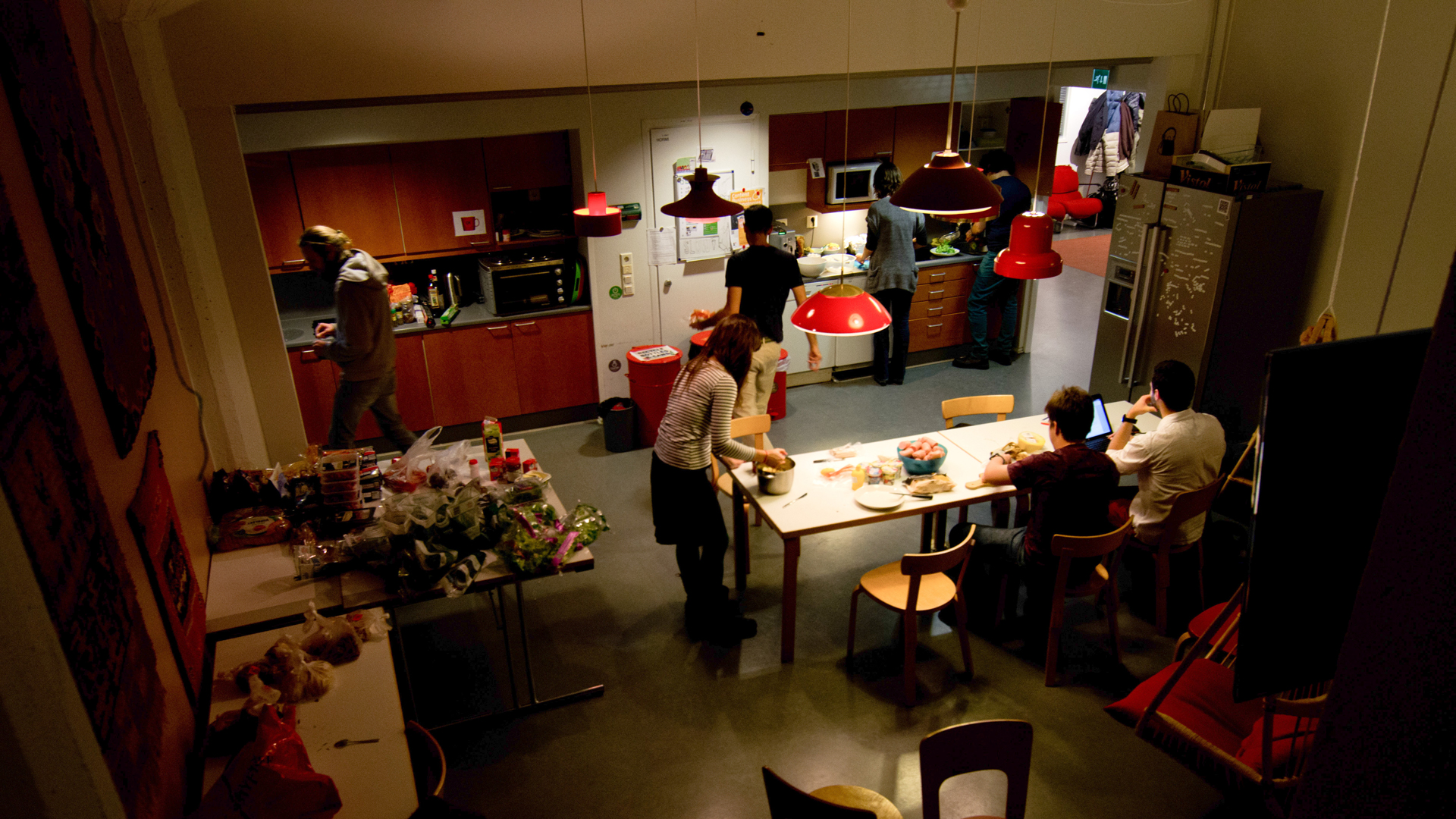 ....
CS on Movies are movie evenings organised by the students of the Creative Sustainability Program at Aalto Media Factory. The events started in the Spring 2013 and take place every second Tuesday(ish).
..
CS on Movies ovat Aalto Media Factorylla pidettyjä elokuvailtoja, jotka järjestävät Aalto yliopiston Creative Sustainability -ohjelman opiskelijat. Elokuvaillat alkoivat keväällä 2013. Niitä järjestetään (yleensä) tiistaisin.
....
....
Some of the organisers who used to go dumpster-diving for themselves, suggested to serve the guests dumpster-dived foods too.
..
Jotkut elokuvailtojen järjestäjistä, jotka käyvät itse dyykkaamassa hävikkiruokaa ruokakauppojen roskiksista, ehdottivat että myös elokuvailloissa voitaisiin tarjoilla dyykattua ruokaa.
....
....
Usually the amount of foods gathered from groceries was massive. Vahid Mortezaei was asked to join them as a volunteer chef to prepare dinner out of them for about 20 guests every evening.
..
Useimmiten ruokakaupoista saatua hävikkiruokaa oli todella paljon. Vahid Mortezaeita pyydettiin liittymään joukkoon vapaaehtoispohjalta ja valmistamaan joka tiistaisen illallisen noin 20 vieraalle.
....
....
The dinners became very successful and made the movie evenings more popular than before. Students from other departments started to also join the cooking sessions to prepare food for the dinner.
..
Illallisista tuli todella suosittuja ja niiden ansiosta myös elokuvailloista tuli suositumpia kuin koskaan aikaisemmin. Muidenkin tiedekuntien oppilaita alkoi tulla mukaan kokkaustuokioihin, joissa illalliset valmistettiin.
....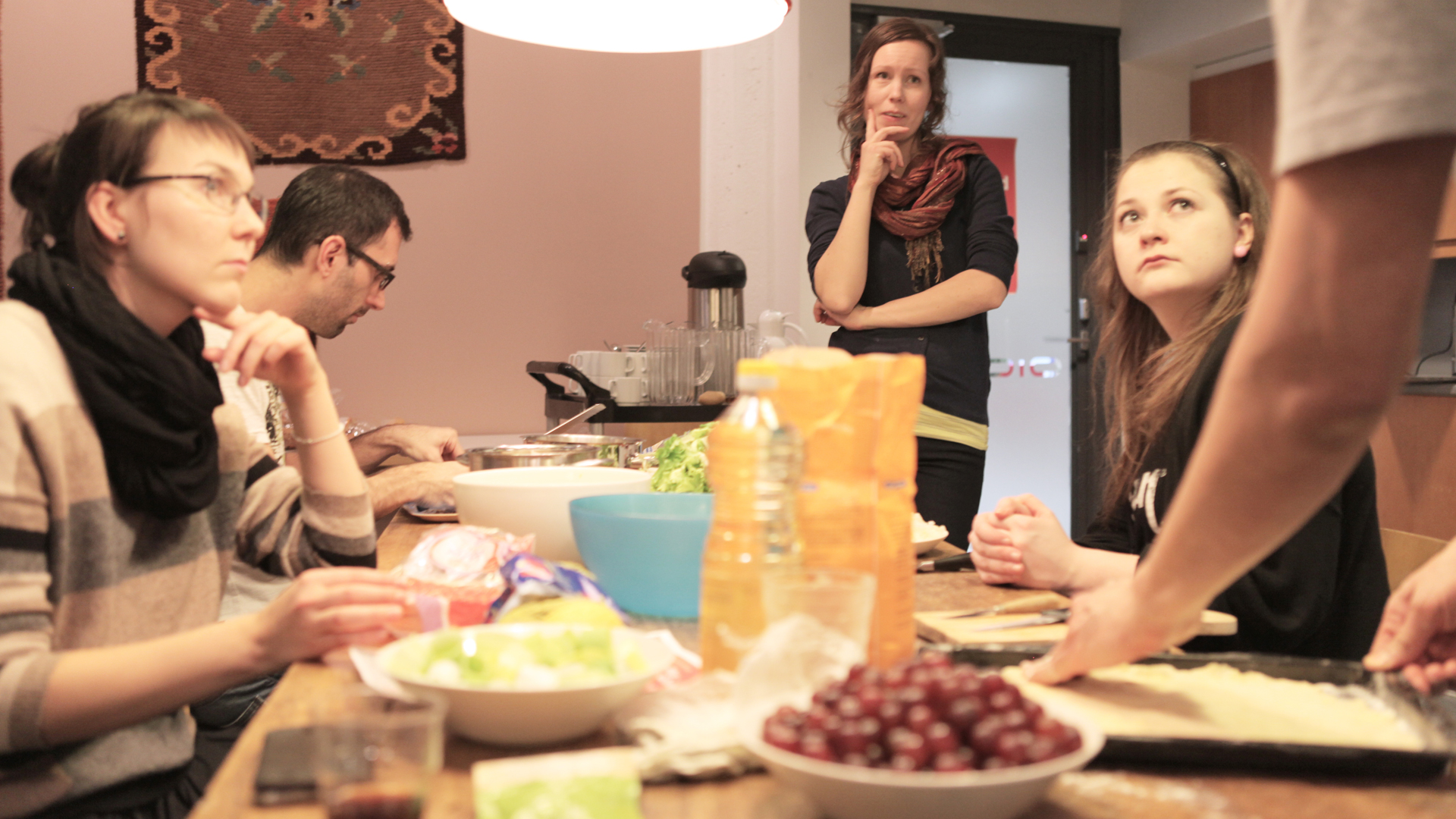 ....
Since the collected ingredients were literally random stuff, cooking demanded lots of creativity and improvisation. This reality made the cooking sessions much more exciting for the participants.
..
Kokkaus vaati paljon luovuutta ja improvisointia, sillä koskaan ei voinut etukäteen tietää, mitä ruoka-aineita olisi milloinkin käytössä. Tästä syystä kokkaustuokiot olivat kaikkien osallistujien mielestä todella innostavia.
....
....
What can you do with a bunch of grapes..?
..
Mitä voisi tehdä kasasta viinirypäleitä..?
....
....
...yoghurt-grape pie as a dessert by using a few cups of fruity yoghurt and other ingredients.
..
...jugurttiviinirypälepiirakkaa jälkiruoaksi, hedelmäjugurtin ja muiden ainesten avulla.
....
....
The dinner is ready!
..
Illallinen on valmis!
....
....
Leek, meatball and grape finger foods were served on Finnish rye bread.
..
Purjosipulista, lihapullista ja viinirypäleistä tehtyjä sormiruokia, ruisleivällä tarjoiltuina.
....
....
With time the dinners attracted the media's attention too [CS blog]. Helsingin Sanomat, Finland's largest daily newspaper, interviewed Vahid Mortezaei on the 9th of January 2014 [read here]. Later, YLE radio, the national broadcaster came to the kitchen to discover what was going on in there [listen here].
..
Ajan kuluessa illallisista kiinnostui myös media [CS blogi]. Helsingin Sanomat haastatteli Vahid Mortezaeita 9. tammikuuta 2014 [lue artikkeli tästä]. Myöhemmin YLE:n radio vieraili keittiössä selvittämässä, mitä siellä tapahtui [kuuntele radio-ohjelma tästä].
....
....
As the news of the dinners spread around, the group received requests for catering with rescued-food for some artistic events. Therefore, Vahid Mortezaei and the CS on Movies team formed a group called YUK to respond to these demands.
..
Tiedon levitessä kokkausryhmä sai hävikkiruoasta valmistettuja catering-tilauksia muutamaan taidetilaisuuteen. Vahid Mortezaei ja CS on Movies -tiimi muodostivat ryhmän nimeltä YUK vastatakseen pyyntöihin.
....
....
In March 2013, Helsinki Think Company and UN Youth Association Helsinki organised a Think&Do Club event called Think Food. They invited the CS on Movies team and Vahid Mortezaei to the event to present their story about dumpster diving and cooking with wasted foods to the audience.
..
Maaliskuussa 2013 Helsinki Think Company ja Suomen YK-nuoret järjestivät Think&Do Club -tapahtuman nimeltään Think Food. He kutsuivat CS on Movies -tiimin sekä Vahid Mortezaein kertomaan tilaisuuteen tarinansa hävikkiruoasta ja sen kokkaamisesta.
....
....
In May 2014, within the 19th European Students Symposium on the Environment , EuroEnviro2014, Vahid Mortezaei conducted a worksop called Trash-dinner with participants from all around Europe at Aalto Media Factory. The topic was "How to Cook with Leftovers?".
The participants were in charge of preparing dinner for the rest of the students by using dumpster-dived foods.
..
Toukokuussa 2014 Vahid Mortezaei piti Aalto Media Factoryssa työpajan nimeltä "Trash-dinner" 19. eurooppalaisessa opiskelijoiden ympäristösymposiumissa (EuroEnviro2014), johon osallistui opiskelijoita ympäri Eurooppaa. Aiheena oli "Miten kokata hävikkiruoka-aineista?".
Osallistujat valmistivat muille opiskelijoile illallisen dyykatusta hävikkiruoasta.
....
....
A few hours later, all the students gathered at Aalto Media Factory to have the dinner cooked by their friends out of wasted food. The result -as always- was surprising and delicious.
..
Muutamaa tuntia myöhemmin opiskelijat kokoontuivat Aalto Media Factorylle nauttimaan illallisen, jonka heidän ystävänsä olivat heille hävikkiruoasta valmistaneet. Tulos oli -kuten aina- yllätyksellinen ja herkullinen.
....