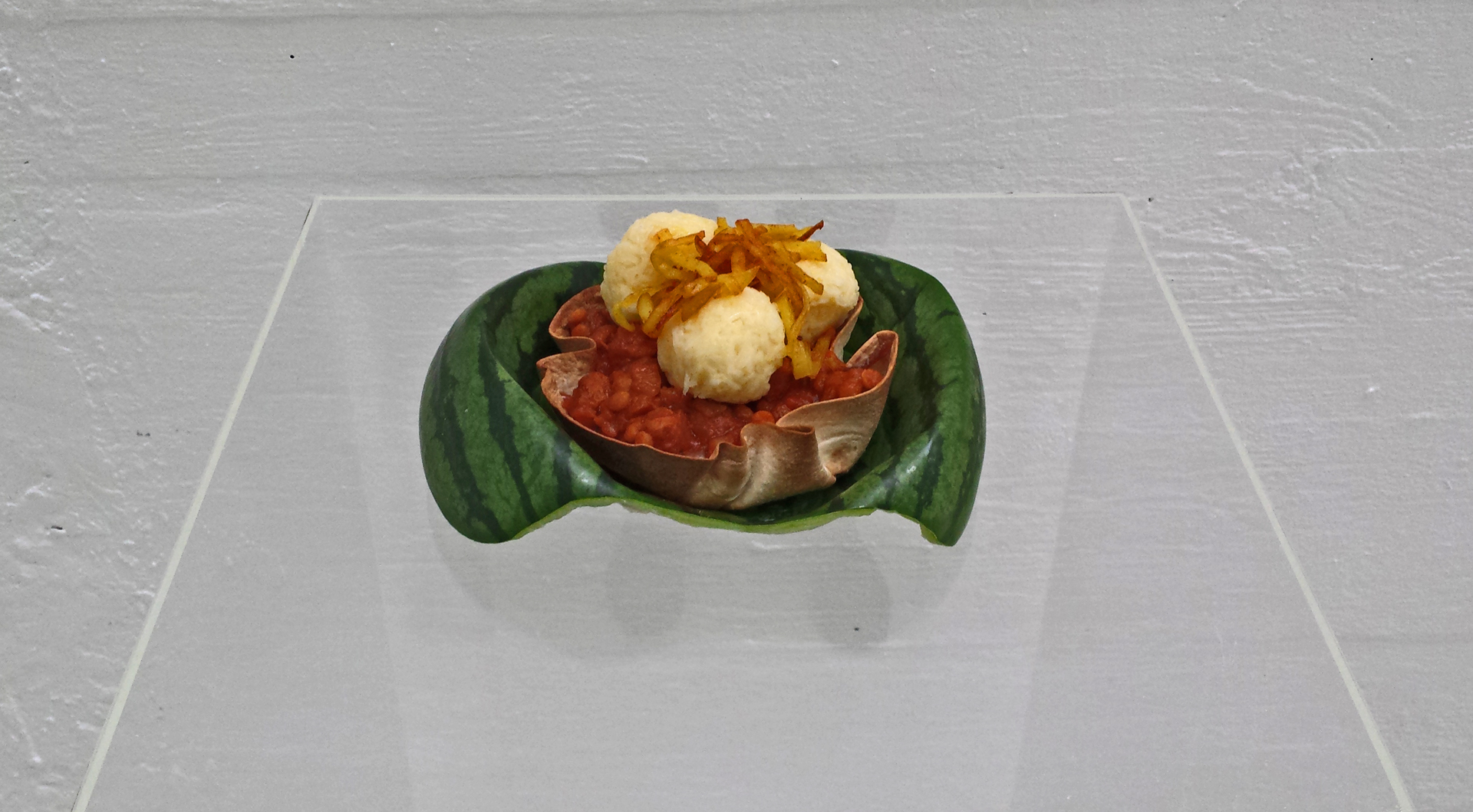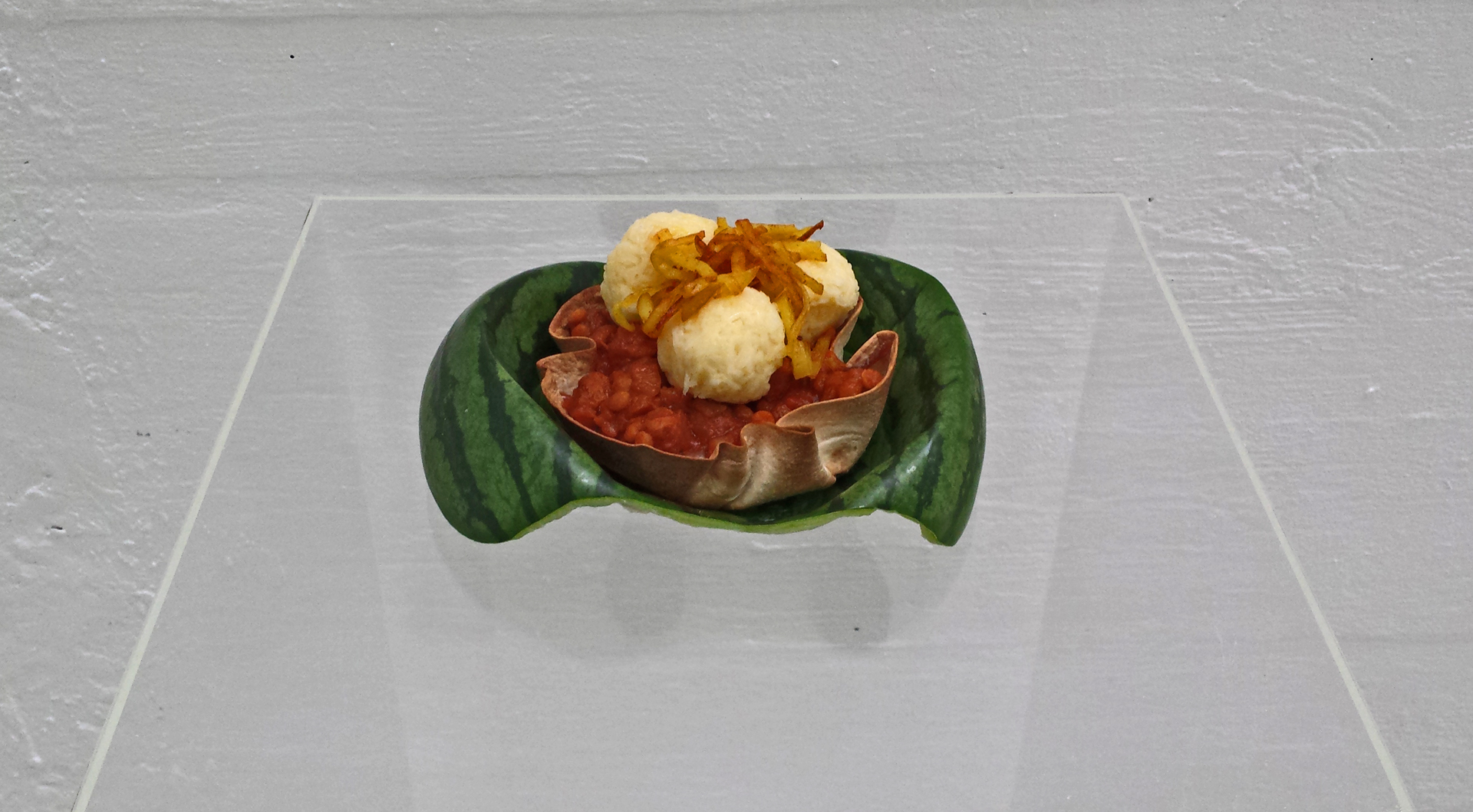 ....Redesigned Gheymeh..Geimen Uudelleen Muotoilu....
....
Dinner's Ready was a series of open lectures at Teurastamo, a cook show at Flavour Studio, plus several educational workshops and lectures held at Biofilia Lab at Aalto University, all organised by Biofilia in 2014.
As a participant of the program, Vahid Mortezaei redesigned the very traditional Iranian dish called Gheymeh for the final presentation at ADD Lab.
..
Biofilian vuonna 2014 järjestämä Dinner's Ready muodostui Teurastamolla pidetystä, avoimesta, luentosarjasta, Flavour Studiolla pidetystä kokkausshowsta ja useista Aalto yliopiston Biofilia Laboratoriossa pidetystä työpajasta ja luennosta.
Vahid Mortezaei muotoili uudelleen erittäin perinteisen iranilaisen ruoan nimeltä geime ADD Labissa järjestettyyn tapahtumasarjan loppunäytökseen.
....
....Disposable Plate..Kertakäyttölautanen....
....
Following the concept of plateless food, the plate for the dish was made out of the rind of a watermelon. The idea was to build a plate that does not harm the environment using an organic material that usually goes to waste.
..
Ruokalajin lautanen tehtiin vesimelonin kuoresta, lautasettoman ruoan konseptin mukaisesti. Ideana taustalla oli sellaisen lautasen käyttäminen, joka ei vahingoita luontoa ja joka on tehty yleensä roskikseen päätyvästä, orgaanisesta, materiaalista.
....
....Tahdig..Tähdig....
....
The crispy edible bowl made from tortilla bread represents the popular side dish from Persian cuisine called Tahdig.
Tahdig is the by-product of cooking rice in Persian style which is a crispy fried Iranian flatbread (lavash) laid underneath the rice at the bottom of the pot to prevent rice from sticking to the pot. The word "tahdig" literally means "bottom of the pot" in Persian.
For many years already non-stick pots have been commonly used in the Iranian kitchens and tahdig lost its functionality but it is still as popular as it used to be.
..
Rapea, syötävä, tortillaleivästä tehty lautanen kuvaa suosittua iranilaista annosta nimeltä tähdig.
Tähdig on iranilaiseen tapaan kokatun riisin sivutuote. Se on tehty iranilaisesta ohuesta leivästä nimeltä lävash, joka asetetaan kattilaan riisin alle. Sen avulla riisi ei pala pohjaan eikä tartu kattilaan. Sana "tähdig" tarkoittaa farsin kielellä "kattilan pohjaa".
Vaikka tähdig onkin menettänyt vuosien saatossa, teflonkattiloiden ilmestyessä iranilaisiin keittiöihin, alkuperäisen tehtävänsä, ruokana se on edelleen yhtä suosittu kuin ennenkin.
....
....Rice Ball..Riisipallo....
....
Gheymeh is a stew that always goes with rice. The tradition is to eat it with a large pile of rice but for the new look, the rice was shaped in small balls.
..
Geime on pataruoka, joka tarjoillaan aina riisin kanssa. Perinteisessä muodossaan riisi syödään lautaselle laitetusta isosta kasasta, mutta uuden ilmeen antamiseksi tällä kertaa riisi muotoiltiin pieniksi palloiksi.
....
....
Vahid Mortezaei™ served their guests the redesigned Gheymeh but this time without the watermelon plate.
This was the second time that Aalto Media Factory ordered the company to provide food for their guests. The first order was when Anna Valtonen, the new dean of Aalto University's School of Arts, Design and Architecture visited the Factory. They organised an informal lunch meeting with her. The lunch was a full course Iranian meal.
..
Vahid Mortezaei™ tarjosi vieraille uudelleen muotoillun geimen, tällä kertaa ilman vesimelonilautasta.
Kyseessä oli toinen kerta kun Aalto Media Factory tilasi yritykseltä ruokaa vierailleen. Ensimmäinen kerta oli Anna Valtosen, Aalto yliopiston taiteiden ja suunnittelun korkeakoulun uuden dekaanin, vieraillessa Media Factorylla. Hänelle tarjoiltiin iranilaista ruokaa lounaaksi.
....
....
ArtMeatFlesh is the name of a live cooking show series that happens in different cities around the world. The show is a concept by Oron Catts from SymbioticA. The 4th show of the series took place in Helsinki at Flavour Studio as a part of the Dinner's Ready program. Vahid Mortezaei assisted the chef Sami Tallberg during the show.
..
ArtMeatFlesh on ympäri maailmaa kiertävän live kokausshowsarjan nimi. Shown konseptin on luonut Oron Catts SymbioticA:sta. Sarjan neljäs show pidettiin Helsingissä Flavour Studiolla, osana Dinner's Ready:n ohjelmaa. Vahid Mortezaei avusti showssa Sami Tallbergia.
....