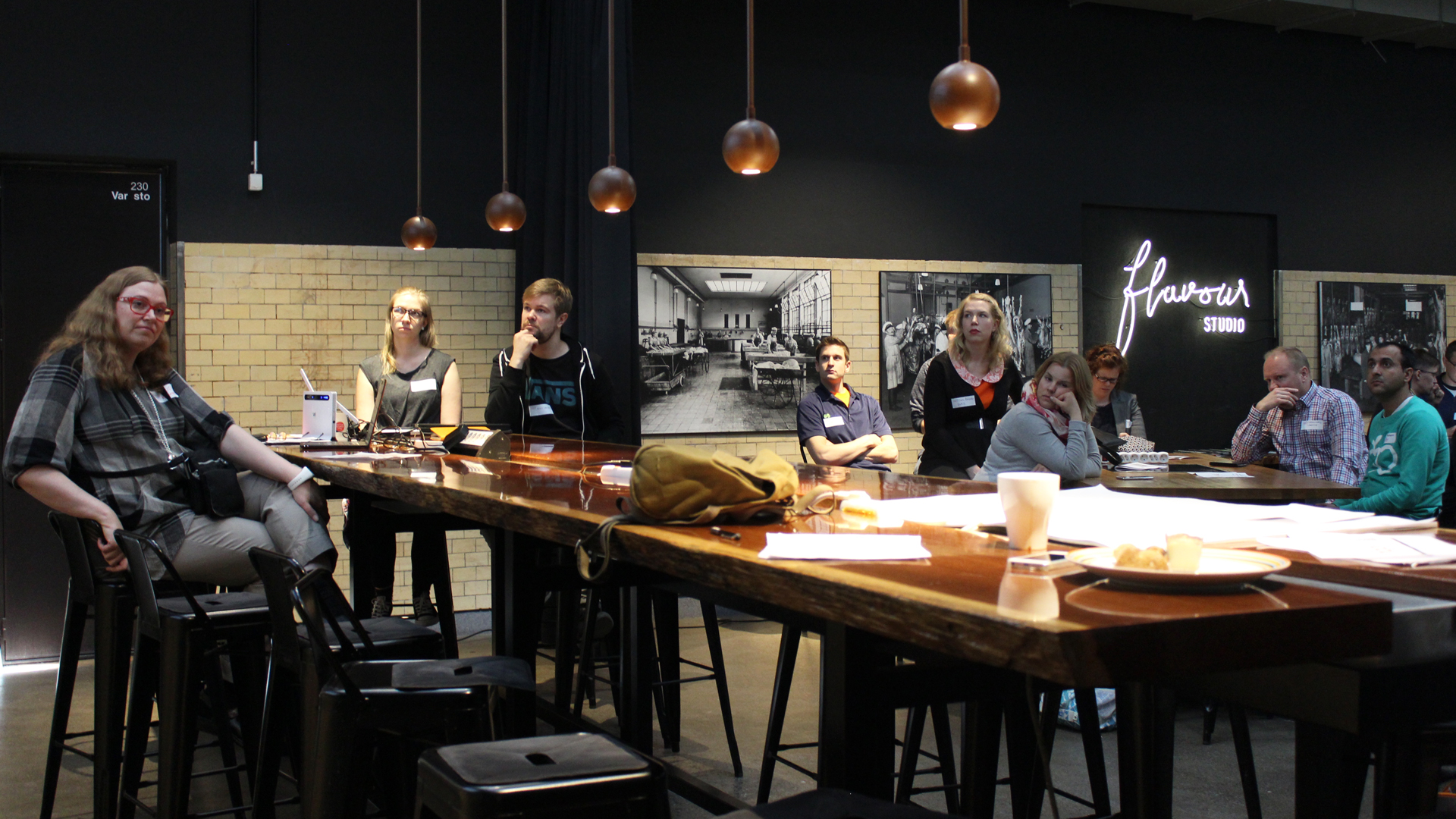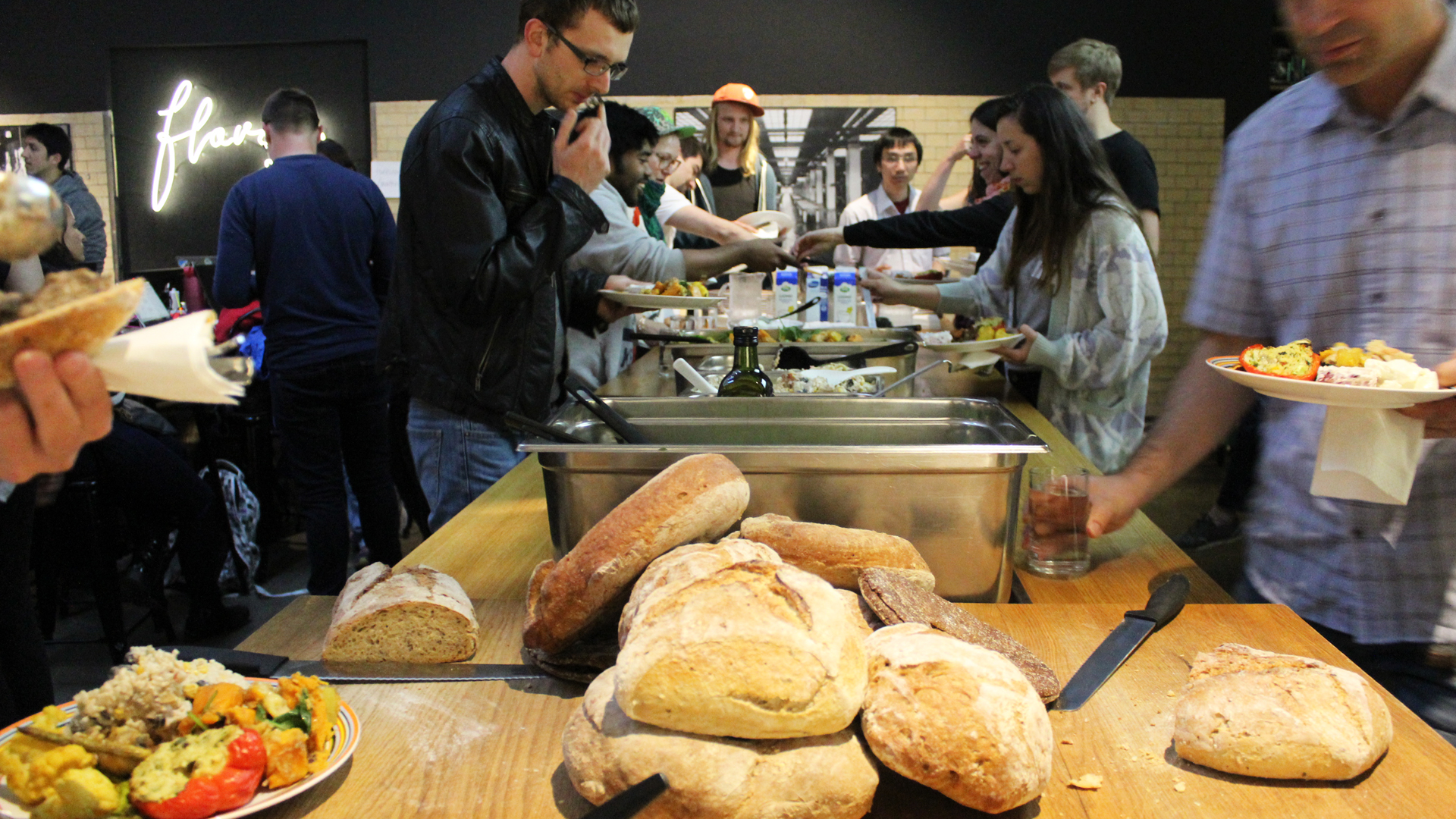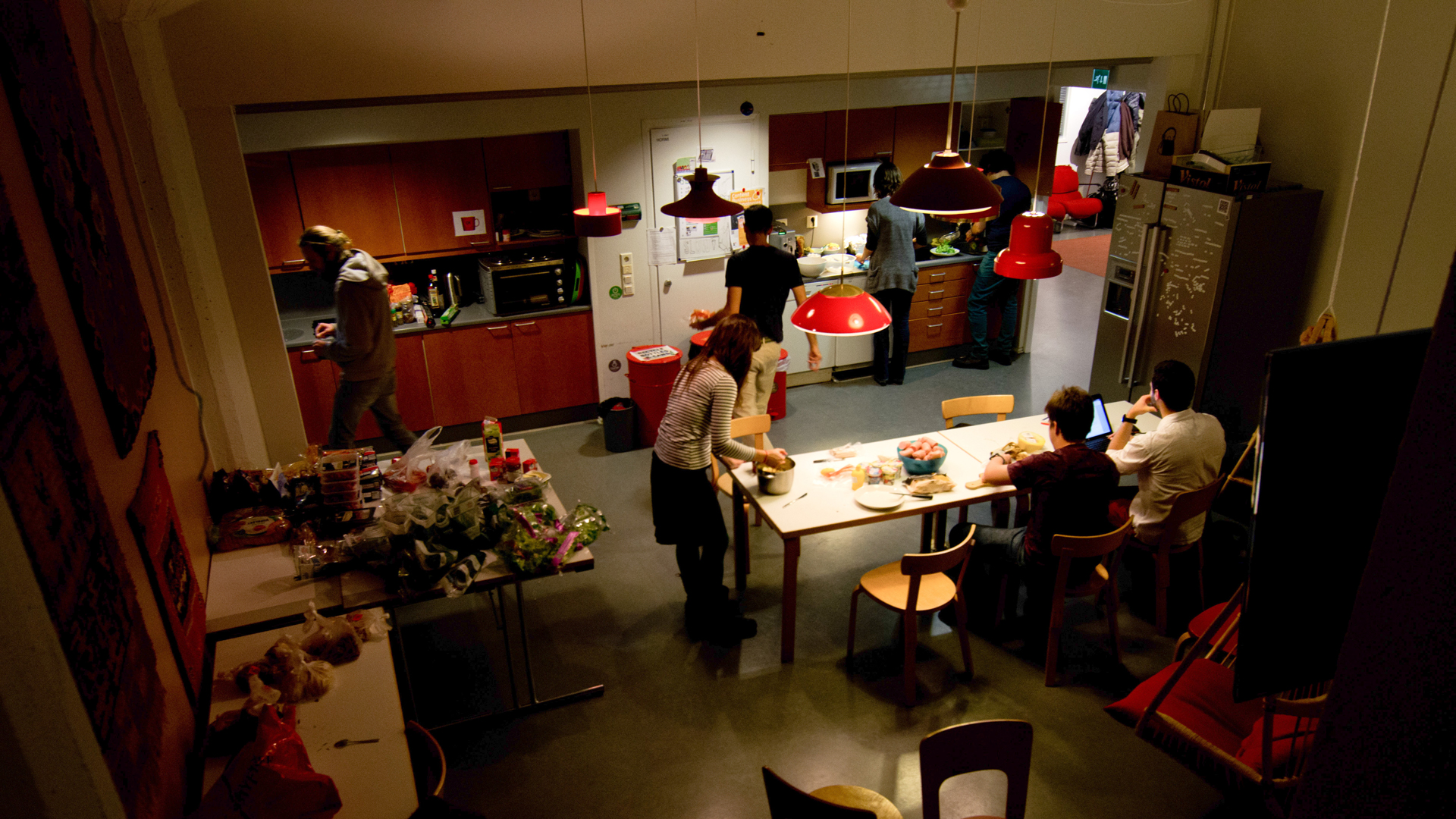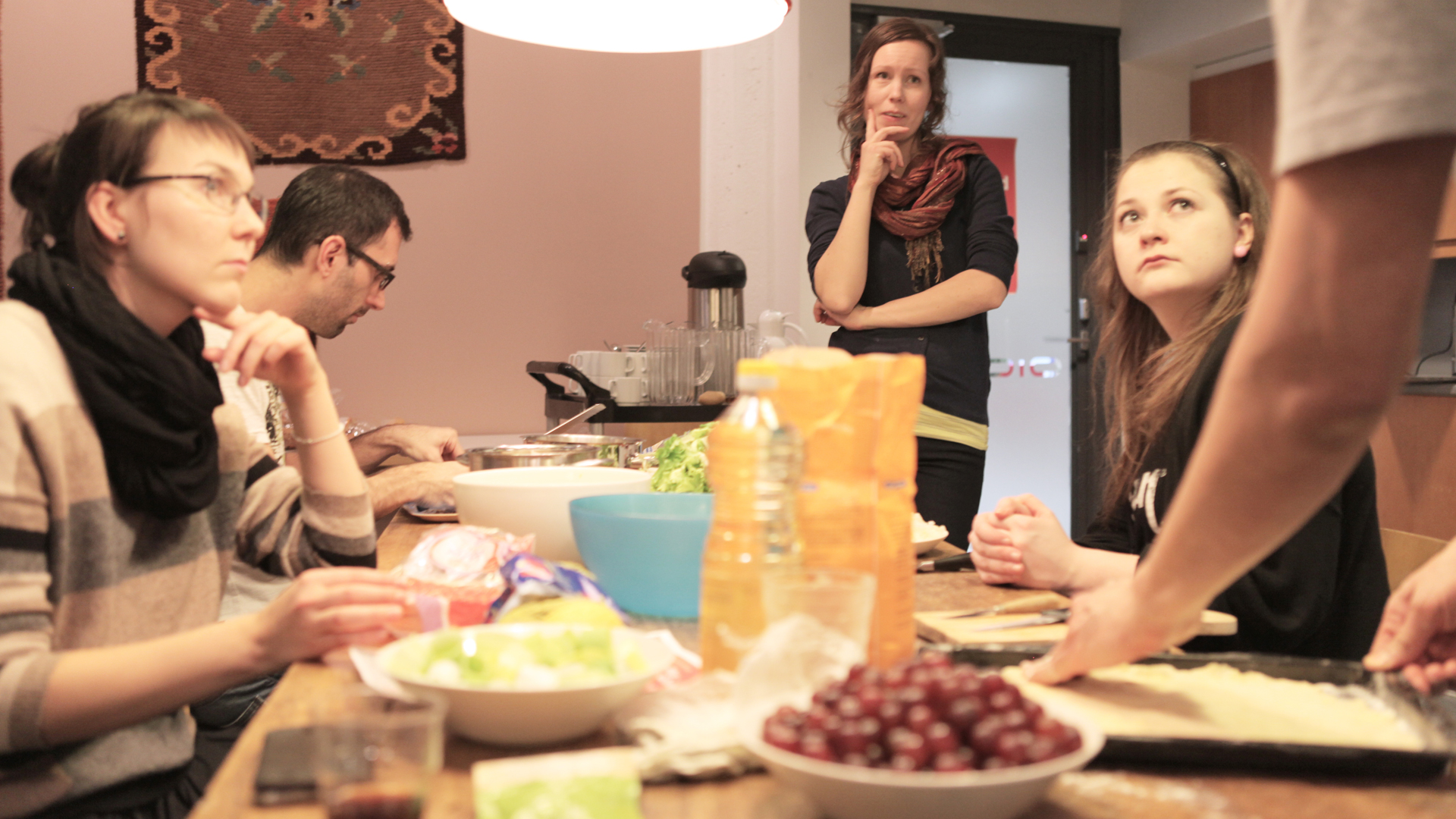 ....Upcycled Milk..Uusiokäytetty Maito....
....
Nearly 100 million tonnes of food are wasted annually in the EU [read here]. There is a lot of criticism about the global food chain (production, distribution and consumption). It is obvious that we cannot continue to live in this, unsustainable, way. One of the main goals of Vahid Mortezaei™ is to promote the concept of sustainable food and to provide practical solutions to make the concept reality.
Upcycling wasted food is an essential policy of Vahid Mortezaei™. As one example, the company recycles expired milk in order to produce delicious and quality cheese.
..
EUssa haaskataan vuosittain lähes 100 miljoonaa tonnia ruokaa [lue lisää tästä]. Maailmanlaajuista ruoantuotantoketjua ja sen sisältämiä tuotanto-, jakelu- ja kulutustapoja kritisoidaan paljon. On sanomattakin selvää, ettemme voi elää jatkuvasti näin kestämättömällä tavalla. Yksi Vahid Mortezaein tavoitteista on edistää kestävää kehitystä ja kestävää ruokakulttuuria ja luoda käytännön ratkaisuja tämän mahdollistamiseksi.
Hävikkiruoan uusiokäyttö on keskeinen osa Vahid Mortezaein työtä. Yksi esimerkki tästä on vanhentuneen maidon käyttö herkullisen ja korkealuokkaisen juuston valmistuksessa.
....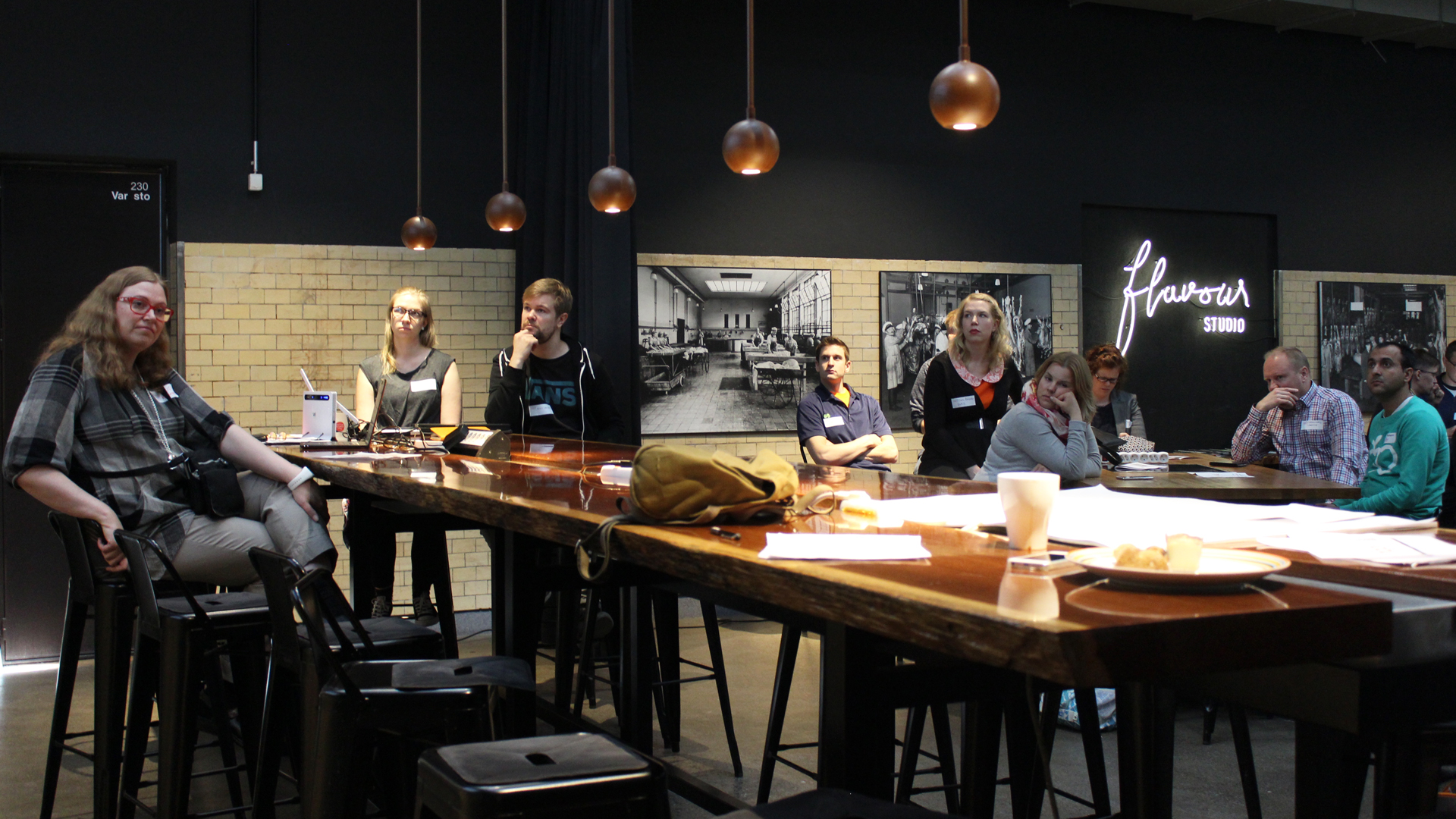 Tukkutori Hackathon
....
City of Helsinki, The Natural Step Finland and 6Aika were organised a two days hackathon at Teurastamo on June 2016. Their aim was to understand and find the solutions to manage the waste streams of Tukkutori.
Tukkutori is the wholesale market of Helsinki. The majority of the companies operating in the area are food and flower industry wholesalers, but the area is also home to production facilities that produce food products, meat processing plants and fish factories, as well as companies that serve retail customers, particularly in Teurastamo area.
Tukkutorihack took place at A21 Flavour Studio located in Teurastamo. The participants worked continuously for 27 hours to finalise their concepts to present at the end of the event. The winner team was announced later within a bbq party in Teurastamo yard.
..
Helsingin kaupunki, The Natural Step Finland ja 6Aika organisoivat kahden päivän hackathonin Teurastamolla kesäkuussa 2016. Tavoitteena oli ymmärtää ja löytää ratkaisuja Tukkutorin jätteiden ja hävikin käsittelemiseksi.
Suurin osa Tukkutorilla olevista yrityksistä on ruoan ja kukkien tukkumyyjiä. Lisäksi Tukkutorilla valmistetaan ruoka-aineita, prosessoidaan lihaa ja kalaa ja myydään tuotteita asiakkaille (erityisesti Teurastamon alueella).
Tukkutorihack pidettiin A21 Flavour Studiolla, joka sijaitsee Teurastamolla. Osallistujat tekijät jatkuvaa työtä vuorokauden ympäri tuottaakseen valmiita konsepteja, jotka esiteltiin tapahtuman lopussa. Voittajajoukkue julistettiin grillijuhlissa Teurastamon pihalla.
....
From Waste To Taste
....
In harmony with theme of the event, the organisers had been decided to serve the participants with the foods prepared from rescued ingredients. For that reason, they ordered Vahid Mortezaei Studio™ to take care of the catering of the whole event [read more here]. The ingredients of the cooking provided by From Waste To Taste.
..
Harmoniassa tapahtuman teeman kanssa, tapahtuman organisoijat olivat päättäneet tarjoilla osallistujille hävikkiruoka-aineista valmistettua ruokaa. Tästä syystä he pyysivät Vahid Mortezaei Studio™:ia huolehtimaan koko tapahtuman pitopalvelusta [lue tässä]. From Waste To Taste toimitti paikalle ruoanlaittoon tarvitut ainekset.
....
....Improvised Live Catering..Improvisoitu Live Catering....
....
Vahid with the assistance of volunteers prepared the meals for the participants live in the venue within the hackathon. Cooking with rescued ingredients is totally differ than regular cooking process. The nature of improvised cooking makes it much more exciting than the regular one. Since the collected ingredients are literally random stuff, cooking demands lots of creativity and improvisation. There are no planned menus or shopping lists. The written recipes unlikely ever are used since always there will be some ingredients missing. The inspiration comes from the collected foods, recipes are called from the chef's subconscious and the menus are finalised once the food is set at the table.
..
Vahid valmisti vapaaehtoisten avulla ateriat livenä hackathonin aikana. Hävikkiruoka-aineista kokkaaminen on täysin erilaista kuin normikokkaaminen. Improvisoidun ruoanlaiton luonne tekee siitä tavanomaista ruoanlaittoa huomattavasti jännittävämpää. Koska kaikki kerätyt ruoka-ainekset ovat kirjaimellisesti ihan mitä tahansa, kokkaaminen edellyttää paljon luovuutta ja improvisointia. Mitään ruoka- tai kauppalistoja ei ole. Olemassa olevia reseptejä voi tuskin käyttää, koska osa niissä mainituista aineksista jää aina puuttumaan. Inspiraatio tulee kerätyistä hävikkiruoka-aineista itsestään, resepteistä, jotka löytyvät kokin alitajunnasta, ja menuista, jotka valmistuvat ruoan asetuttua pöydälle.
....
....Hackathon Lunch at A21 Flavour Studio..Hackathon lounas A21 Flavour Studiolla....
....Preparation for Hackathon Dinner..Hackathon illallisen valmistaminen....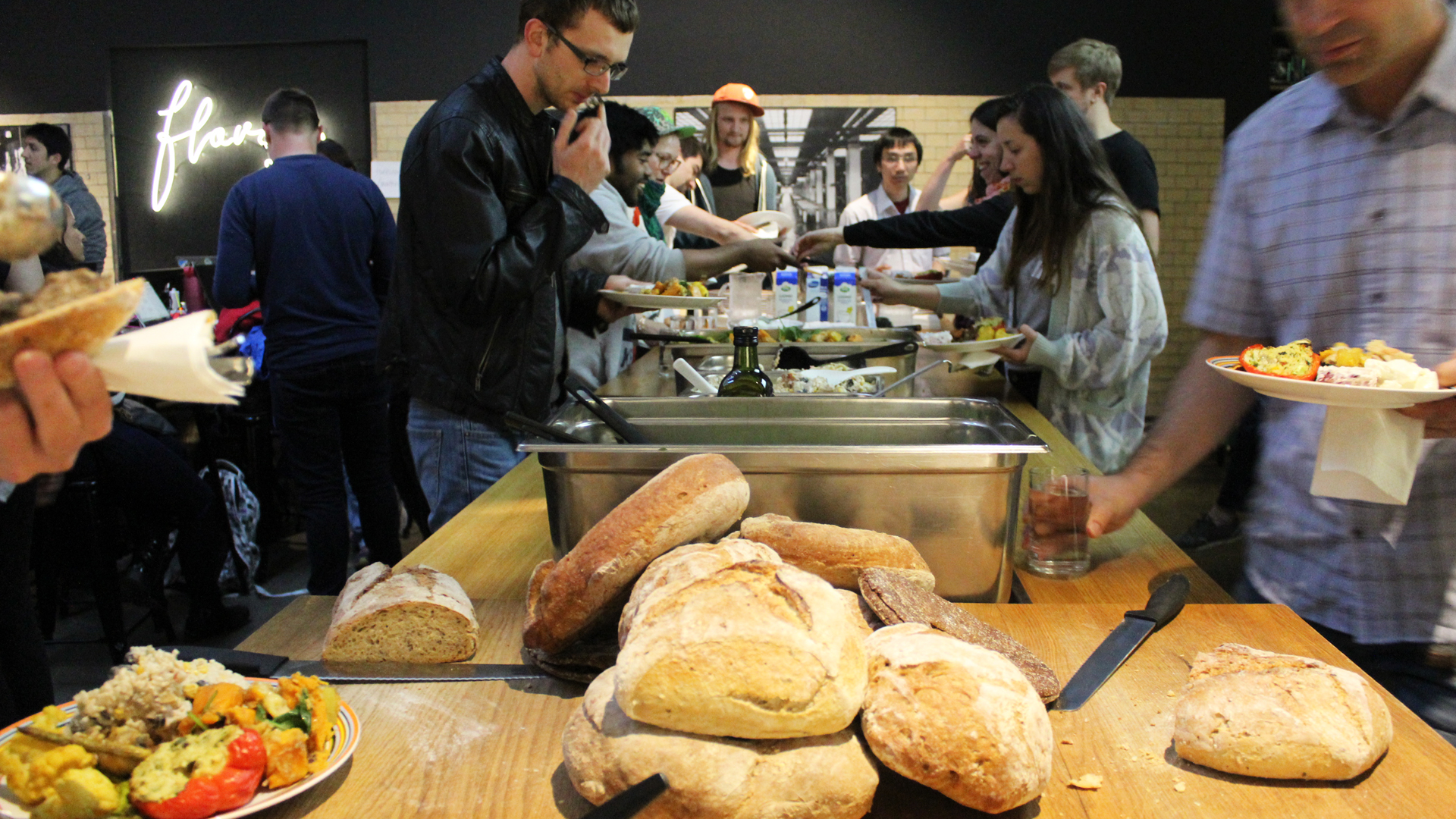 ....Hackathon Dinner at A21 Flavour Studio..Hackathon illallinen A21 Flavour Studiolla....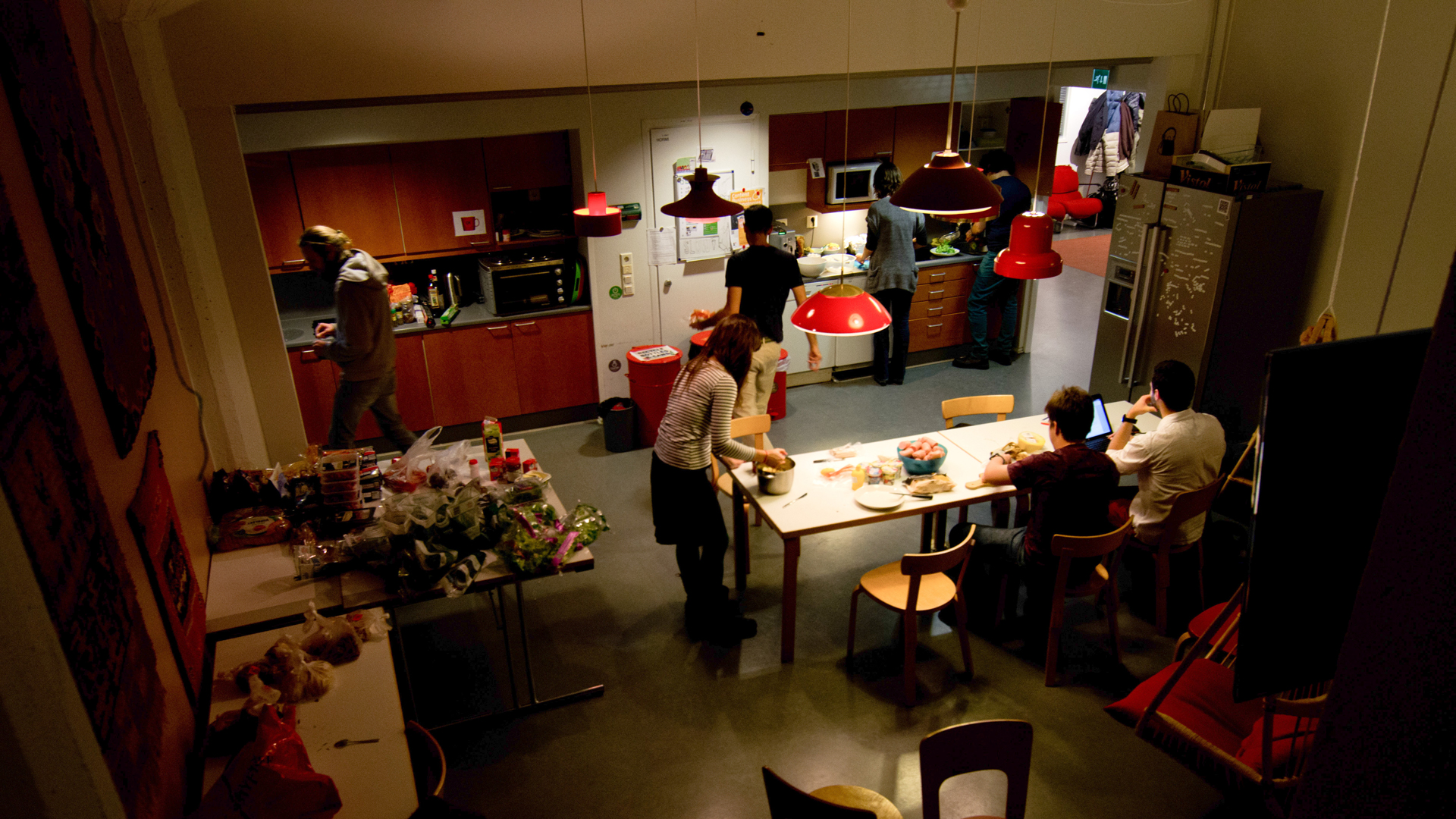 ....
CS on Movies are movie evenings organised by the students of the Creative Sustainability Program at Aalto Media Factory. The events started in the Spring 2013 and take place every second Tuesday(ish).
..
CS on Movies ovat Aalto Media Factorylla pidettyjä elokuvailtoja, jotka järjestävät Aalto yliopiston Creative Sustainability -ohjelman opiskelijat. Elokuvaillat alkoivat keväällä 2013. Niitä järjestetään (yleensä) tiistaisin.
....
....
Some of the organisers who used to go dumpster-diving for themselves, suggested to serve the guests dumpster-dived foods too.
..
Jotkut elokuvailtojen järjestäjistä, jotka käyvät itse dyykkaamassa hävikkiruokaa ruokakauppojen roskiksista, ehdottivat että myös elokuvailloissa voitaisiin tarjoilla dyykattua ruokaa.
....
....
Usually the amount of foods gathered from groceries was massive. Vahid Mortezaei was asked to join them as a volunteer chef to prepare dinner out of them for about 20 guests every evening.
..
Useimmiten ruokakaupoista saatua hävikkiruokaa oli todella paljon. Vahid Mortezaeita pyydettiin liittymään joukkoon vapaaehtoispohjalta ja valmistamaan joka tiistaisen illallisen noin 20 vieraalle.
....
....
The dinners became very successful and made the movie evenings more popular than before. Students from other departments started to also join the cooking sessions to prepare food for the dinner.
..
Illallisista tuli todella suosittuja ja niiden ansiosta myös elokuvailloista tuli suositumpia kuin koskaan aikaisemmin. Muidenkin tiedekuntien oppilaita alkoi tulla mukaan kokkaustuokioihin, joissa illalliset valmistettiin.
....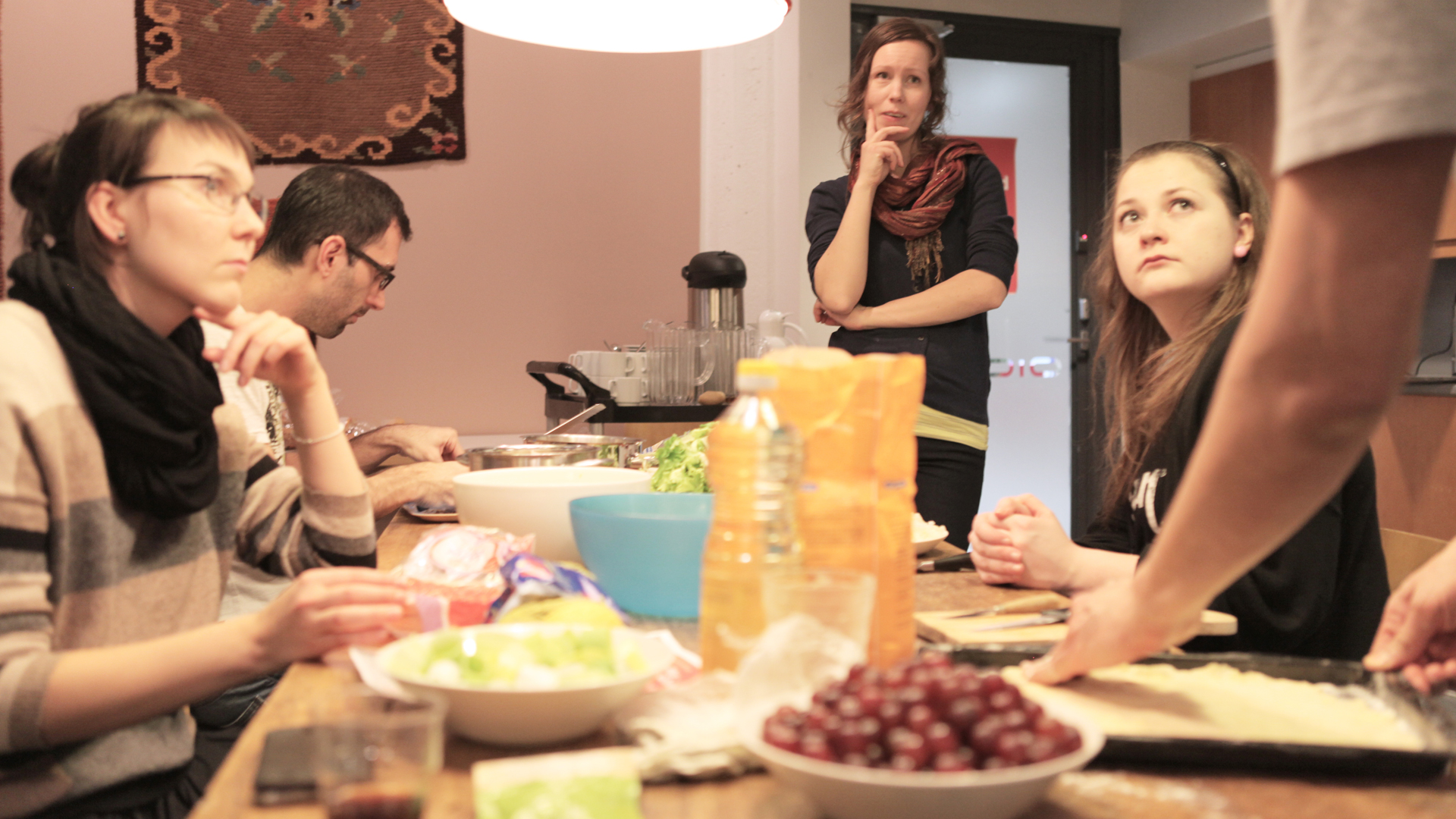 ....
Since the collected ingredients were literally random stuff, cooking demanded lots of creativity and improvisation. This reality made the cooking sessions much more exciting for the participants.
..
Kokkaus vaati paljon luovuutta ja improvisointia, sillä koskaan ei voinut etukäteen tietää, mitä ruoka-aineita olisi milloinkin käytössä. Tästä syystä kokkaustuokiot olivat kaikkien osallistujien mielestä todella innostavia.
....
....
What can you do with a bunch of grapes..?
..
Mitä voisi tehdä kasasta viinirypäleitä..?
....
....
...yoghurt-grape pie as a dessert by using a few cups of fruity yoghurt and other ingredients.
..
...jugurttiviinirypälepiirakkaa jälkiruoaksi, hedelmäjugurtin ja muiden ainesten avulla.
....
....
The dinner is ready!
..
Illallinen on valmis!
....
....
Leek, meatball and grape finger foods were served on Finnish rye bread.
..
Purjosipulista, lihapullista ja viinirypäleistä tehtyjä sormiruokia, ruisleivällä tarjoiltuina.
....
....
With time the dinners attracted the media's attention too [CS blog]. Helsingin Sanomat, Finland's largest daily newspaper, interviewed Vahid Mortezaei on the 9th of January 2014 [read here]. Later, YLE radio, the national broadcaster came to the kitchen to discover what was going on in there [listen here].
..
Ajan kuluessa illallisista kiinnostui myös media [CS blogi]. Helsingin Sanomat haastatteli Vahid Mortezaeita 9. tammikuuta 2014 [lue artikkeli tästä]. Myöhemmin YLE:n radio vieraili keittiössä selvittämässä, mitä siellä tapahtui [kuuntele radio-ohjelma tästä].
....
....
As the news of the dinners spread around, the group received requests for catering with rescued-food for some artistic events. Therefore, Vahid Mortezaei and the CS on Movies team formed a group called YUK to respond to these demands.
..
Tiedon levitessä kokkausryhmä sai hävikkiruoasta valmistettuja catering-tilauksia muutamaan taidetilaisuuteen. Vahid Mortezaei ja CS on Movies -tiimi muodostivat ryhmän nimeltä YUK vastatakseen pyyntöihin.
....
....
In March 2013, Helsinki Think Company and UN Youth Association Helsinki organised a Think&Do Club event called Think Food. They invited the CS on Movies team and Vahid Mortezaei to the event to present their story about dumpster diving and cooking with wasted foods to the audience.
..
Maaliskuussa 2013 Helsinki Think Company ja Suomen YK-nuoret järjestivät Think&Do Club -tapahtuman nimeltään Think Food. He kutsuivat CS on Movies -tiimin sekä Vahid Mortezaein kertomaan tilaisuuteen tarinansa hävikkiruoasta ja sen kokkaamisesta.
....
....
In May 2014, within the 19th European Students Symposium on the Environment , EuroEnviro2014, Vahid Mortezaei conducted a worksop called Trash-dinner with participants from all around Europe at Aalto Media Factory. The topic was "How to Cook with Leftovers?".
The participants were in charge of preparing dinner for the rest of the students by using dumpster-dived foods.
..
Toukokuussa 2014 Vahid Mortezaei piti Aalto Media Factoryssa työpajan nimeltä "Trash-dinner" 19. eurooppalaisessa opiskelijoiden ympäristösymposiumissa (EuroEnviro2014), johon osallistui opiskelijoita ympäri Eurooppaa. Aiheena oli "Miten kokata hävikkiruoka-aineista?".
Osallistujat valmistivat muille opiskelijoile illallisen dyykatusta hävikkiruoasta.
....
....
A few hours later, all the students gathered at Aalto Media Factory to have the dinner cooked by their friends out of wasted food. The result -as always- was surprising and delicious.
..
Muutamaa tuntia myöhemmin opiskelijat kokoontuivat Aalto Media Factorylle nauttimaan illallisen, jonka heidän ystävänsä olivat heille hävikkiruoasta valmistaneet. Tulos oli -kuten aina- yllätyksellinen ja herkullinen.
....
....
Foodycle is a two-day, transdisciplinary and participatory food festival about sustainable food organised by Ruoan Tulevaisuus ry. Vahid Mortezaei™ provided catering services for Foodycle 2014.
On the second day of the event, the 6th of September 2014, the company served food to the participants of the discussion panels at Happi and later in the evening, the guests of the closing party at Kääntöpöytä. All in all, the company served about 200 people.
..
Foodycle on Ruoan Tulevaisuus ryn järjestämä kaksipäiväinen, monialainen ja osallistava kestävän ruokakulttuurin festivaali. Vahid Mortezaei™ oli mukana festivaalilla catering palveluineen vuonna 2014.
Toisena tapahtumapäivänä (6.9.2014), yritys tarjoili ruokaa keskustelutilaisuuksien kuuntelijoille Nuorten toimintakeskus Hapessa sekä myöhemmin illalla festivaalivieraille sen päätösjuhlassa Kääntöpöydässä. Rruokaa tarjoiltiin yhteensä noin 200 henkilölle.
....
....Beetroot Cups..Punajuurikuppi....
....
The company's famous Punajuurikuppi(beetroot cup) was presented for the first time in this event at Happi.
Root vegetables play an important role in the Finnish kitchen. In the spring season, they are planted in almost every home garden around the country. After harvesting they are stored and enjoyed throughout the cold seasons as well.
Punajuurikuppi was the meeting point of local ingredients with rich Middle Eastern taste.
..
Yrityksen kuuluisa punajuurikuppi nähtiin ensikertaa Nuorten toimintakeskus Hapen tapahtumassa.
Juurekset ovat olennainen osa suomalaista keittiötä. Kasvukaudella niitä löytää lähes jokaisen viherpeukalon kasvimaasta ja vuoden ympäri lähes jokaisen suomalaisen kaapeista.
Punajuurikupissa kohtasivat paikalliset, suomalaiset, ainekset ja Lähi-Idän maut.
....
....Rhubarb-pistachio Cups..Raparperipistaasipähkinäkuppi....
....
Rhubarb and apples are very common ingredients used in the Finnish kitchen. Pistachio is one of the nuts that is used widely in Persian cuisine. In these cups, the familiar tastes of rhubarb and apple were combined with the rich but light taste of pistachio to create a new culinary experience. Despite the appearance of the cups, they were not sweet and heavy.
..
Raparperi ja omenat ovat yleisiä suomalaisen keittiön aineksia. Pistaasipähkinää puolestaan käytetään paljon iranilaisessa keittiössä. Näissä kupeissa yhdistyivät raparperin ja omenan tutut maut rikkaan mutta miedon pistaasipähkinän maun kanssa. Yhdessä ne loivat uudenlaisen, raikkaan, kulinaristisen elämyksen.
....
....
In line with the company's policy, the cups were served plateless at Happisali.
..
Linjassa yrityksen toimintatapojen kanssa, kupit tarjoiltiin Happisalissa ilman lautasia.
....