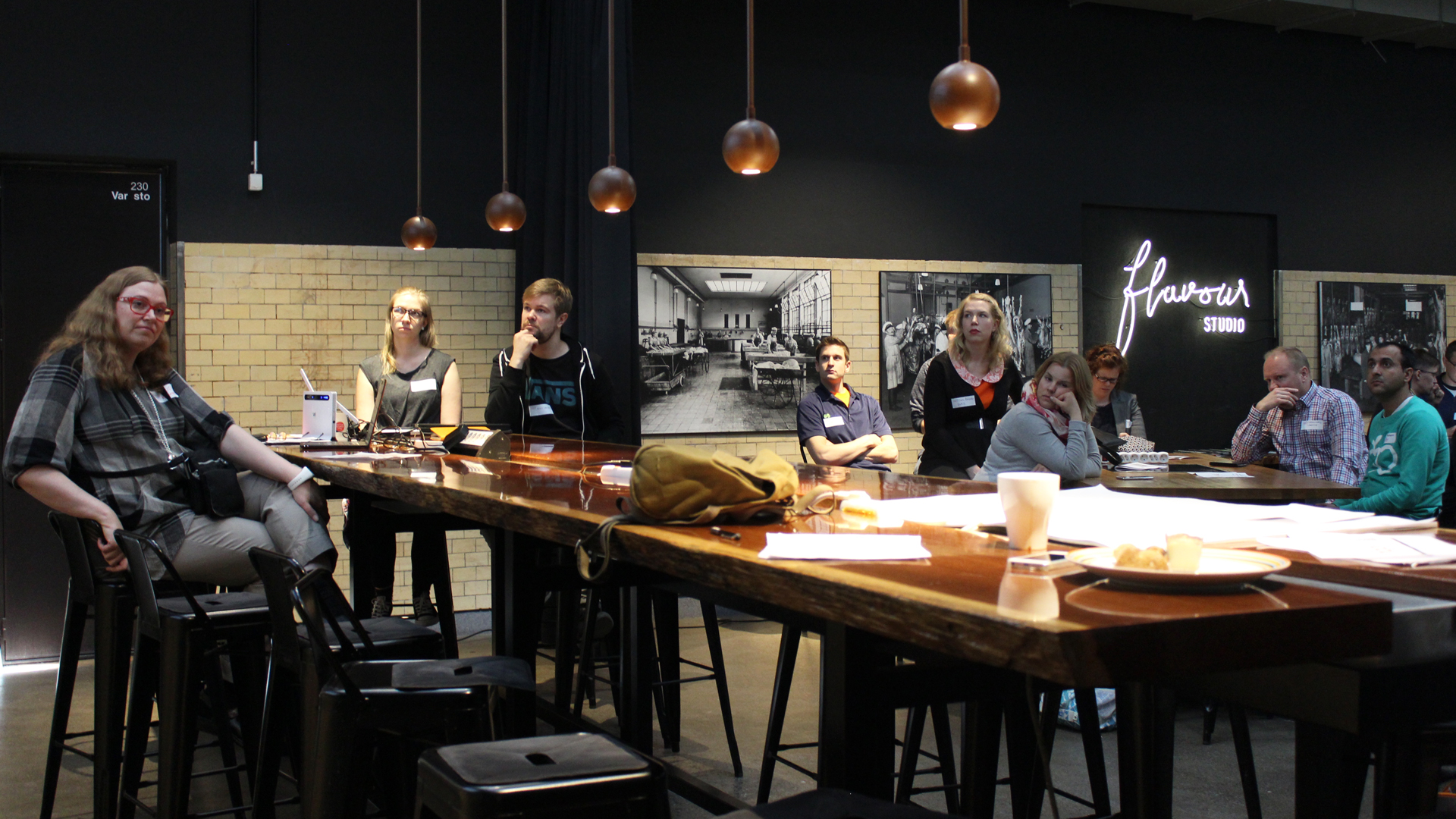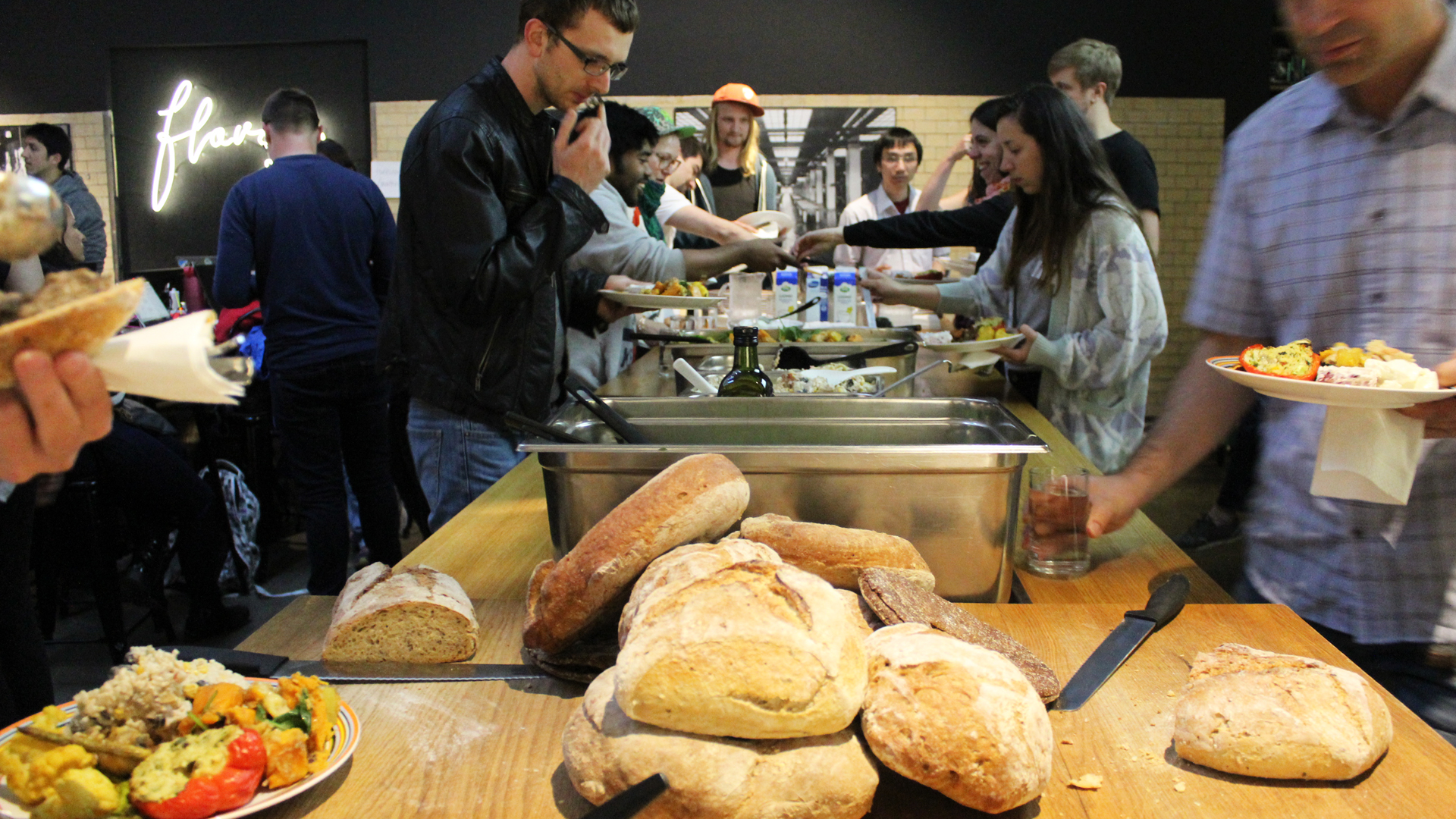 ....Upcycled Milk..Uusiokäytetty Maito....
....
Nearly 100 million tonnes of food are wasted annually in the EU [read here]. There is a lot of criticism about the global food chain (production, distribution and consumption). It is obvious that we cannot continue to live in this, unsustainable, way. One of the main goals of Vahid Mortezaei™ is to promote the concept of sustainable food and to provide practical solutions to make the concept reality.
Upcycling wasted food is an essential policy of Vahid Mortezaei™. As one example, the company recycles expired milk in order to produce delicious and quality cheese.
..
EUssa haaskataan vuosittain lähes 100 miljoonaa tonnia ruokaa [lue lisää tästä]. Maailmanlaajuista ruoantuotantoketjua ja sen sisältämiä tuotanto-, jakelu- ja kulutustapoja kritisoidaan paljon. On sanomattakin selvää, ettemme voi elää jatkuvasti näin kestämättömällä tavalla. Yksi Vahid Mortezaein tavoitteista on edistää kestävää kehitystä ja kestävää ruokakulttuuria ja luoda käytännön ratkaisuja tämän mahdollistamiseksi.
Hävikkiruoan uusiokäyttö on keskeinen osa Vahid Mortezaein työtä. Yksi esimerkki tästä on vanhentuneen maidon käyttö herkullisen ja korkealuokkaisen juuston valmistuksessa.
....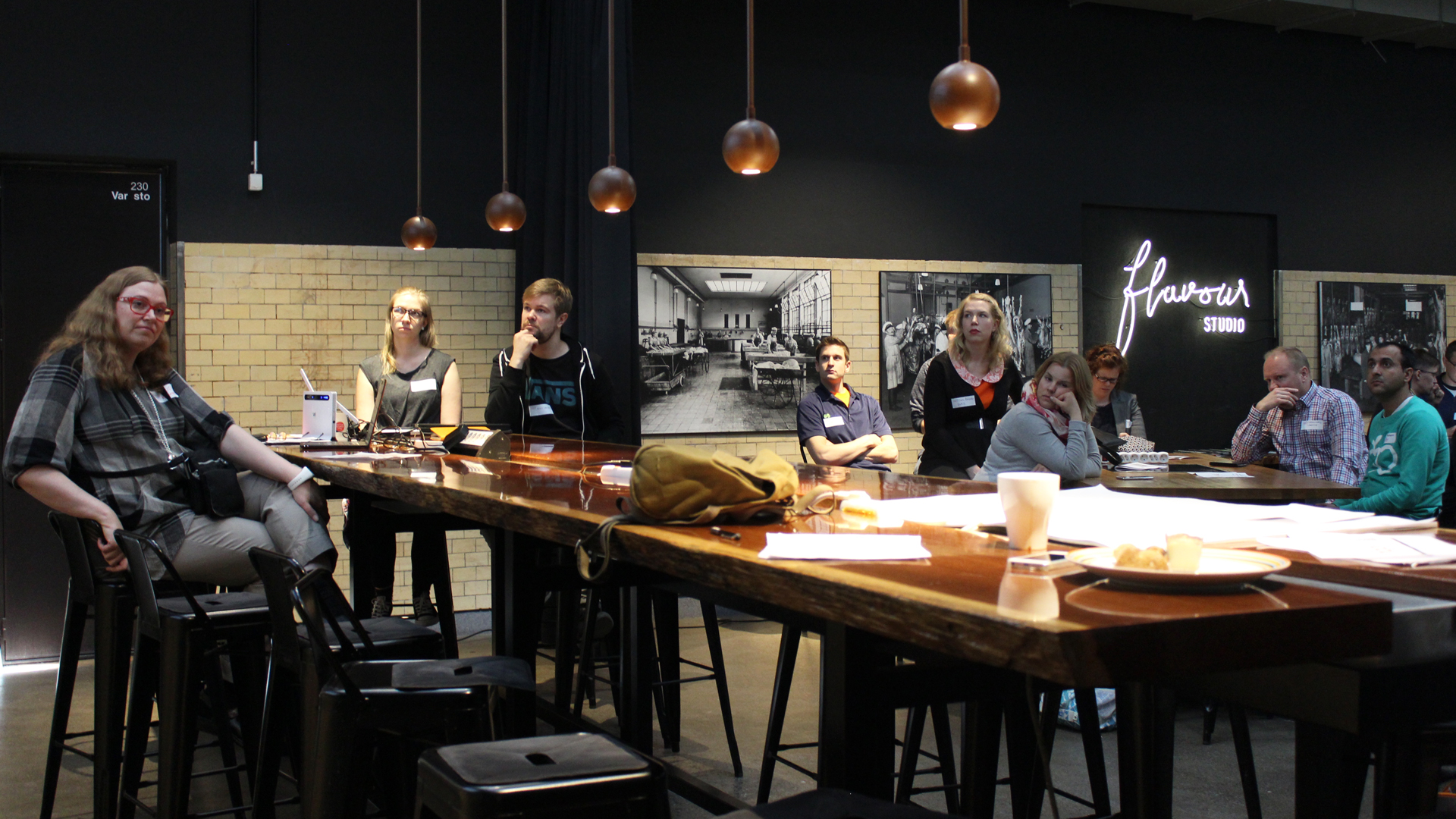 Tukkutori Hackathon
....
City of Helsinki, The Natural Step Finland and 6Aika were organised a two days hackathon at Teurastamo on June 2016. Their aim was to understand and find the solutions to manage the waste streams of Tukkutori.
Tukkutori is the wholesale market of Helsinki. The majority of the companies operating in the area are food and flower industry wholesalers, but the area is also home to production facilities that produce food products, meat processing plants and fish factories, as well as companies that serve retail customers, particularly in Teurastamo area.
Tukkutorihack took place at A21 Flavour Studio located in Teurastamo. The participants worked continuously for 27 hours to finalise their concepts to present at the end of the event. The winner team was announced later within a bbq party in Teurastamo yard.
..
Helsingin kaupunki, The Natural Step Finland ja 6Aika organisoivat kahden päivän hackathonin Teurastamolla kesäkuussa 2016. Tavoitteena oli ymmärtää ja löytää ratkaisuja Tukkutorin jätteiden ja hävikin käsittelemiseksi.
Suurin osa Tukkutorilla olevista yrityksistä on ruoan ja kukkien tukkumyyjiä. Lisäksi Tukkutorilla valmistetaan ruoka-aineita, prosessoidaan lihaa ja kalaa ja myydään tuotteita asiakkaille (erityisesti Teurastamon alueella).
Tukkutorihack pidettiin A21 Flavour Studiolla, joka sijaitsee Teurastamolla. Osallistujat tekijät jatkuvaa työtä vuorokauden ympäri tuottaakseen valmiita konsepteja, jotka esiteltiin tapahtuman lopussa. Voittajajoukkue julistettiin grillijuhlissa Teurastamon pihalla.
....
From Waste To Taste
....
In harmony with theme of the event, the organisers had been decided to serve the participants with the foods prepared from rescued ingredients. For that reason, they ordered Vahid Mortezaei Studio™ to take care of the catering of the whole event [read more here]. The ingredients of the cooking provided by From Waste To Taste.
..
Harmoniassa tapahtuman teeman kanssa, tapahtuman organisoijat olivat päättäneet tarjoilla osallistujille hävikkiruoka-aineista valmistettua ruokaa. Tästä syystä he pyysivät Vahid Mortezaei Studio™:ia huolehtimaan koko tapahtuman pitopalvelusta [lue tässä]. From Waste To Taste toimitti paikalle ruoanlaittoon tarvitut ainekset.
....
....Improvised Live Catering..Improvisoitu Live Catering....
....
Vahid with the assistance of volunteers prepared the meals for the participants live in the venue within the hackathon. Cooking with rescued ingredients is totally differ than regular cooking process. The nature of improvised cooking makes it much more exciting than the regular one. Since the collected ingredients are literally random stuff, cooking demands lots of creativity and improvisation. There are no planned menus or shopping lists. The written recipes unlikely ever are used since always there will be some ingredients missing. The inspiration comes from the collected foods, recipes are called from the chef's subconscious and the menus are finalised once the food is set at the table.
..
Vahid valmisti vapaaehtoisten avulla ateriat livenä hackathonin aikana. Hävikkiruoka-aineista kokkaaminen on täysin erilaista kuin normikokkaaminen. Improvisoidun ruoanlaiton luonne tekee siitä tavanomaista ruoanlaittoa huomattavasti jännittävämpää. Koska kaikki kerätyt ruoka-ainekset ovat kirjaimellisesti ihan mitä tahansa, kokkaaminen edellyttää paljon luovuutta ja improvisointia. Mitään ruoka- tai kauppalistoja ei ole. Olemassa olevia reseptejä voi tuskin käyttää, koska osa niissä mainituista aineksista jää aina puuttumaan. Inspiraatio tulee kerätyistä hävikkiruoka-aineista itsestään, resepteistä, jotka löytyvät kokin alitajunnasta, ja menuista, jotka valmistuvat ruoan asetuttua pöydälle.
....
....Hackathon Lunch at A21 Flavour Studio..Hackathon lounas A21 Flavour Studiolla....
....Preparation for Hackathon Dinner..Hackathon illallisen valmistaminen....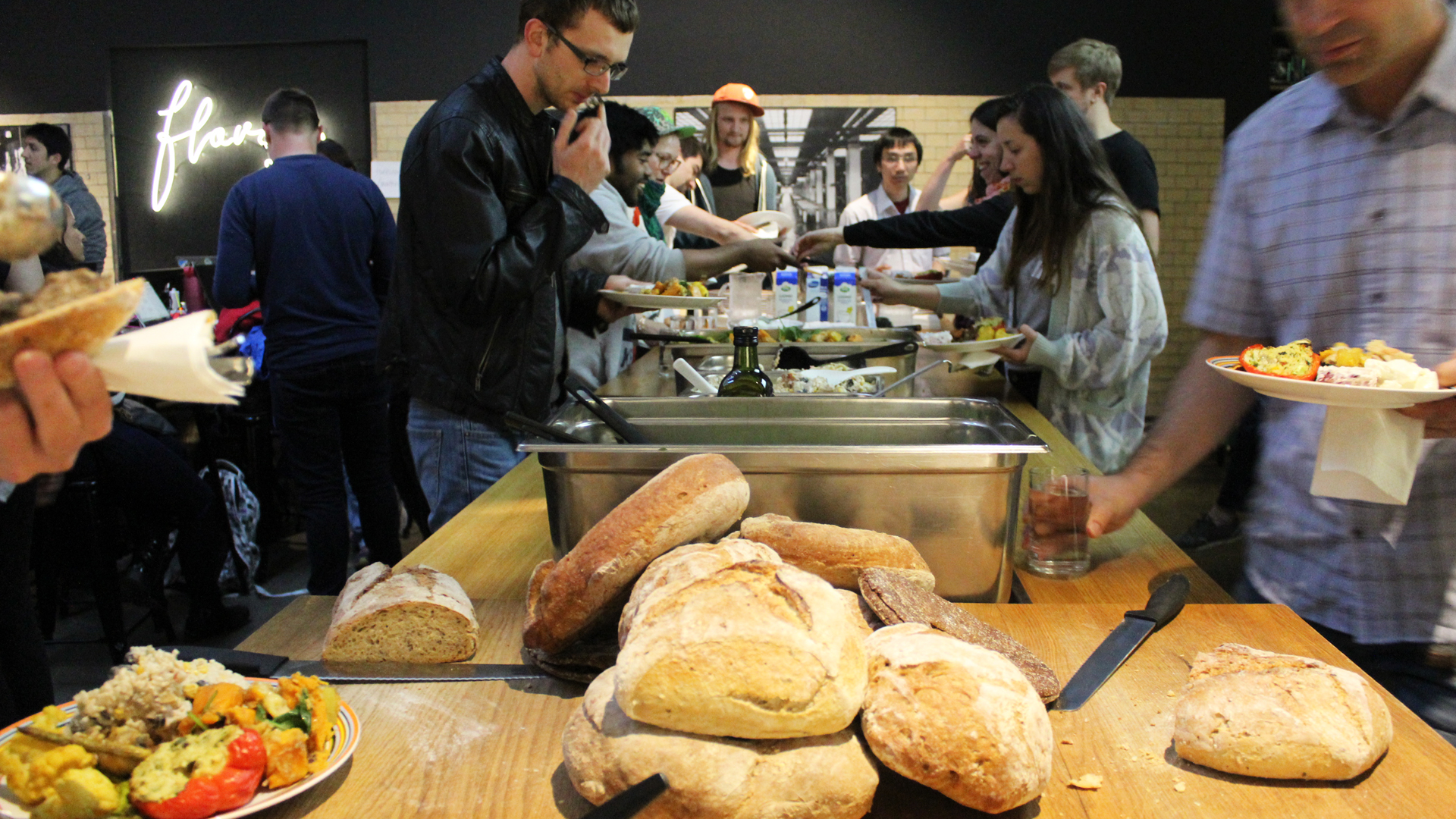 ....Hackathon Dinner at A21 Flavour Studio..Hackathon illallinen A21 Flavour Studiolla....