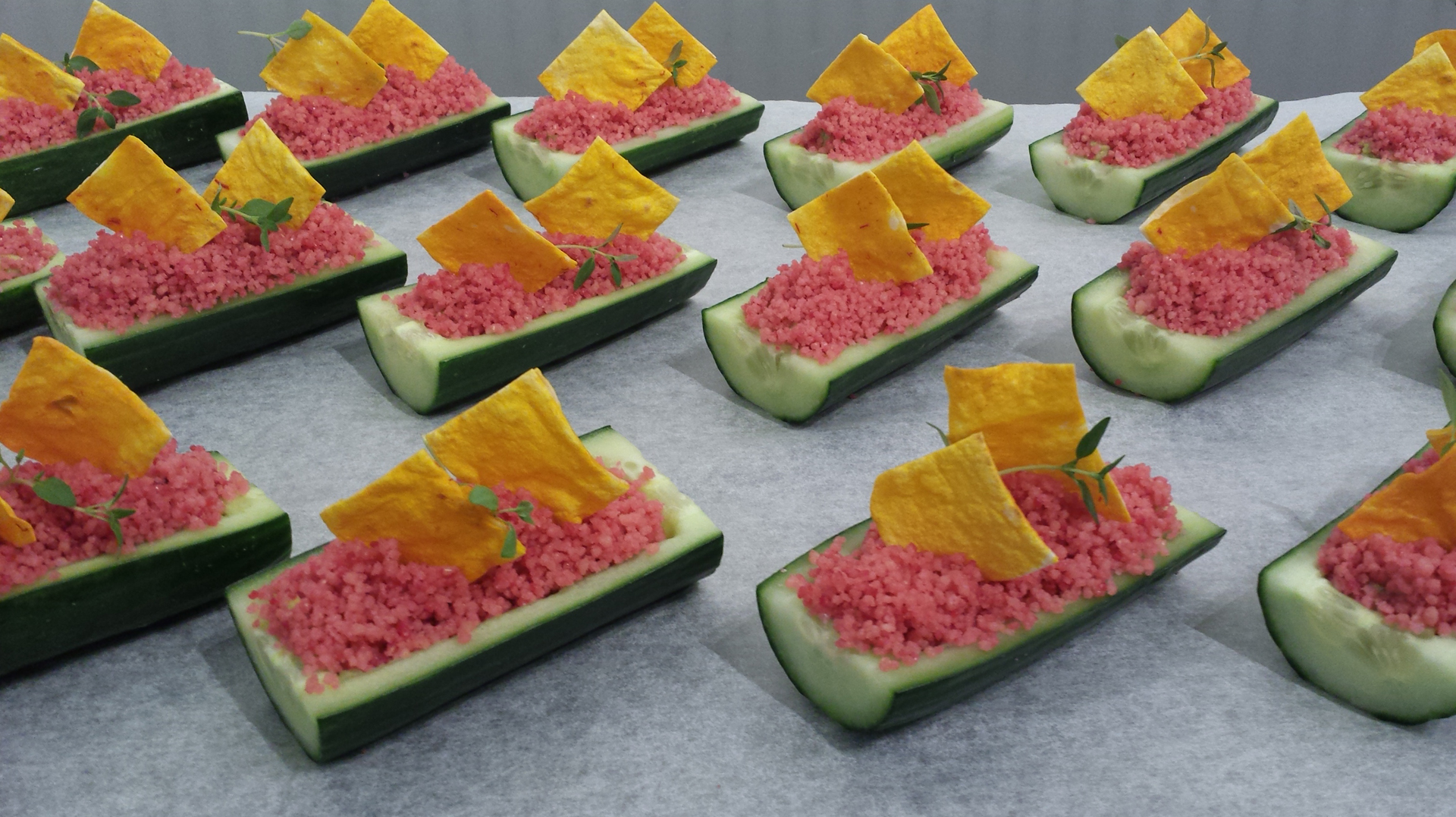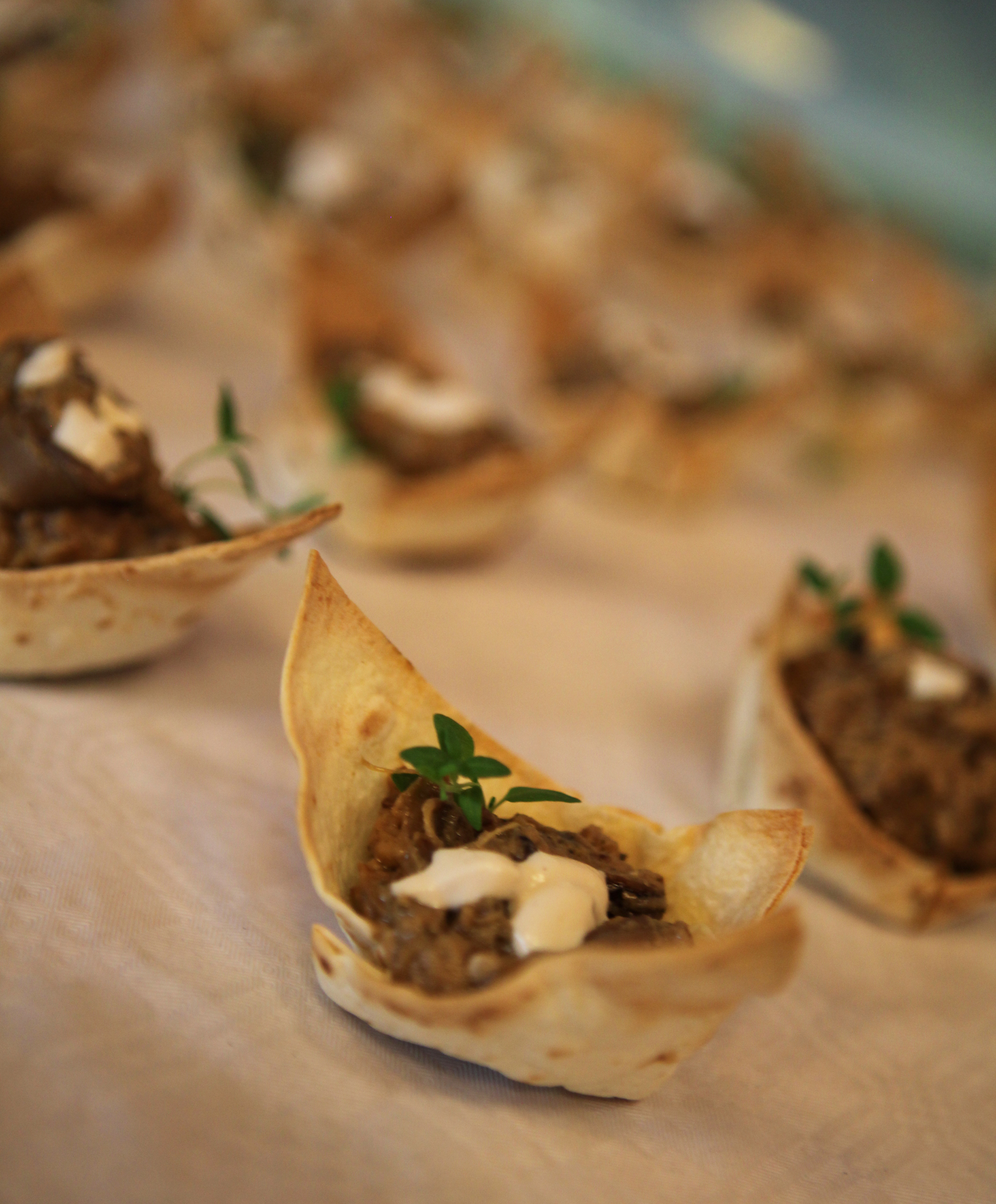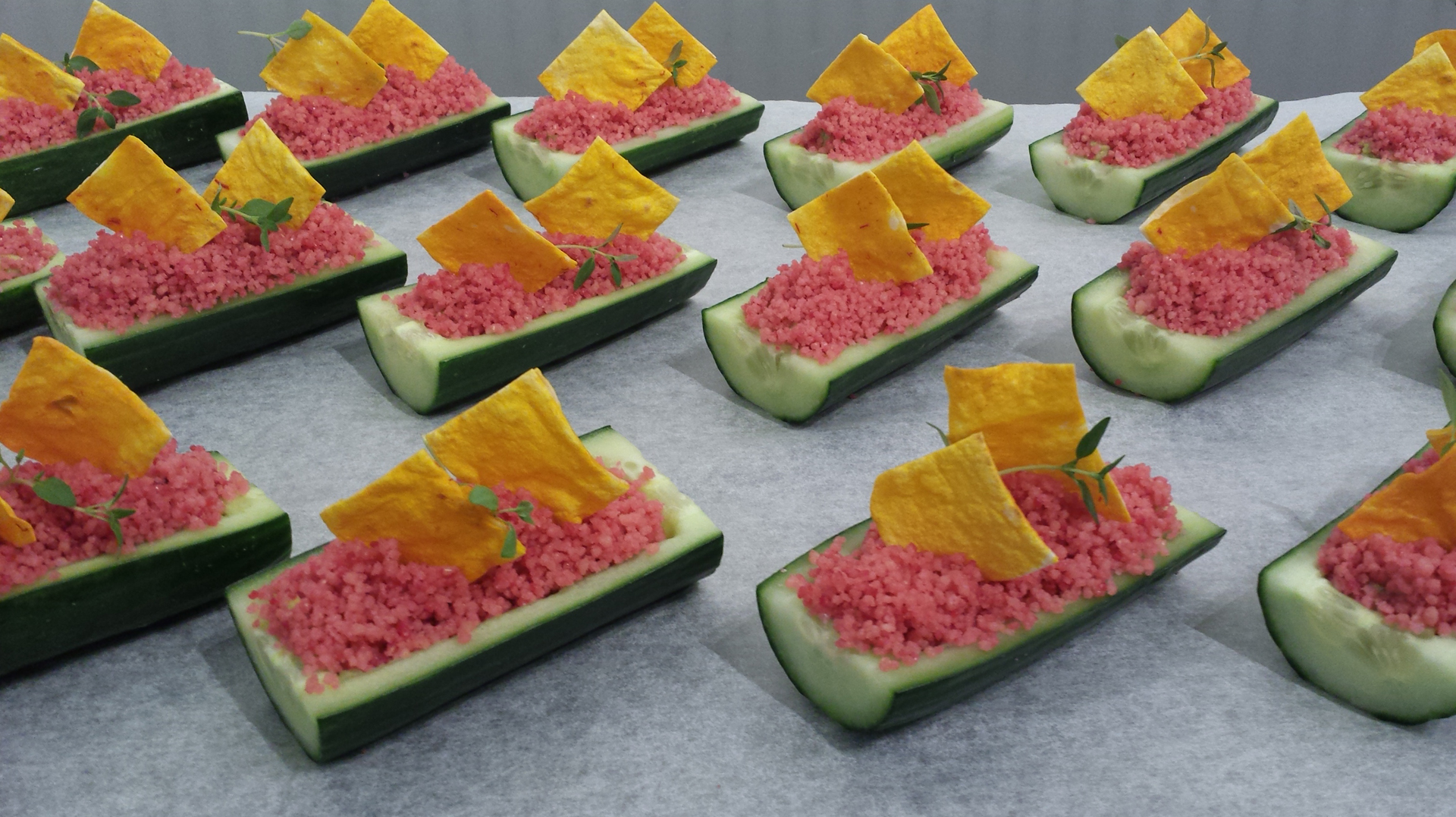 ....Cucumber Canapé..Kurkkukanapeet....
Persianpiirakka
....
Karjalanpiirakka is a Finnish national snack, loved by everyone, eaten anytime and anywhere. It's simple, healthy and very delicious as it is. It gets more delicious when it is topped off with munavoi (boiled-egg & butter) or a slice of cheese and ham.
The traditional karjalanpiirakka is almost a sacred part of Finnish cuisine. Vahid Mortezaei™ decided to challenge this by keeping the familiar shape but introducing a totally new taste.
..
Karjalanpiirakka on suomalaisten rakastama kansallisherkku. Se on yksinkertainen, terveellinen ja herkullinen sellaisenaan. Herkullisemmaksi se muuttuu silloin, kun se nautitaan munavoin kera.
Perinteinen karjalanpiirakka on suomalaisille lähes pyhä. Vahid Mortezaei™ päätti haastaa tämän pitämällä tutun muodon mutta lisäämällä siihen täysin uudenlaisen maun.
....
....
The reaction of the guests was promising even though they were faced with an unseen Iranian cousin of karjalanpiirakka named Persianpiirakka.
..
Vieraiden reaktiot vaikuttivat lupaavilta heidän kohdatessa karjalanpiirakan uudenuutukaisen, iranilaisen, serkun nimeltään persianpiirakka.
....
....
The karjalanpiirakka was Iranianized from bottom to top to become Persianpiirakka.
..
Muuttuakseen persianpiirakaksi, karjalanpiirakka transformoitiin iranilaiseksi pohjiaan myöten.
....
....
They still looked like the original karjalanpiirakka but saffron, hidden marinated fava beans, dried roses and a variety of other spices gave them a totally new taste.
..
Piirakat näyttivät edelleen karjalanpiirakalta mutta sahrami, piilossa olevat marinoidut härkäpavut, kuivatut ruusunterälehdet ja muut mausteet antoivat piirakoille täysin uuden maun.
....
....
The taste was inspired by a very popular Iranian dish called Baghali Polo.
..
Inspiraatio uuteen makuun tuli hyvin suositusta iranilaisesta ruoasta nimeltään bagalii polo.
....
....
The crackers were painted with saffron.
..
Suolaiset keksit maalattiin sahramilla.
....
....saffron crackers..sahramikeksit....
....
The most expensive spice of the world, saffron, is the signature of Persian cuisine. The Iranians like mild tastes so they never use spices in big quantities but saffron is an exception; they love to exaggerate the amount of it.
..
Maailman kallein mauste, sahrami, on persialaisessa keittiössä normi. Iranilaiset pitävät miedoista mauista, joten he eivät lähes koskaan käytä mausteita suurissa määrissä. Sahrami on poikkeus: sitä käytetään aina liioitellusti.
....
....Spinach Pirashki..Pinaattipiraski....
....
One of the pastries served at Helsinki Design Museum in 2013 as breakfast was Spinach Pirashki(pirozhki). The recipe of this pastry was later published in My Dear Kitchen in Helsinki blog.
..
Yksi Helsingin Designmuseolla vuonna 2013 tarjotuista leivonnaisista oli pinaattipiraski. Resepti julkaistiin myöhemmin My Dear Kitchen in Helsinki -blogissa.
....
....Lahti Poetry Week..Lahden Runoviikko....
....Phoenix Nest..Feeniks-linnun Pesä....
....
According to a myth the phoenix was born from ash of a fire that the phoenix himself had created. Two Phoenix eggs were served on a piece of charcoal bread.
..
Myytti kertoo, että feeniks-lintu syntyi linnun itsensä sytyttämän tulen tuhkasta. Aamiaisella, hiilileivän päällä, tarjoiltiin kaksi feeniks-linnun munaa.
Feeniks-linnun munat tarjoiltiin hiilileivän kanssa.
....
....Avocado Cups..Avokaadokuppi....
....
A mild, tasty and healthy combination of avocado, chilli, cream cheese, alfalfa sprouts and some secret crunchy surprises was served in avocado shells.
..
Mieto, maukas ja terveellinen avokaadon, chilin, kermajuuston, itujen ja salaisten, rapeiden, yllätysten yhdistelmä tarjoiltiin avokaadonkuoressa.
....
....Charcoal Bread..Hiilileipä....
....
The most exciting moment of this catering was when the very first Hiilileipä (charcoal bread) came out of the oven. It tasted as astonashing as it looked.
..
Tämän cateringin jännittävin hetki koitti, kun ensimmäinen hiilileipämme tuli ulos uunista. Maku oli yhtä upea kuin näky.
....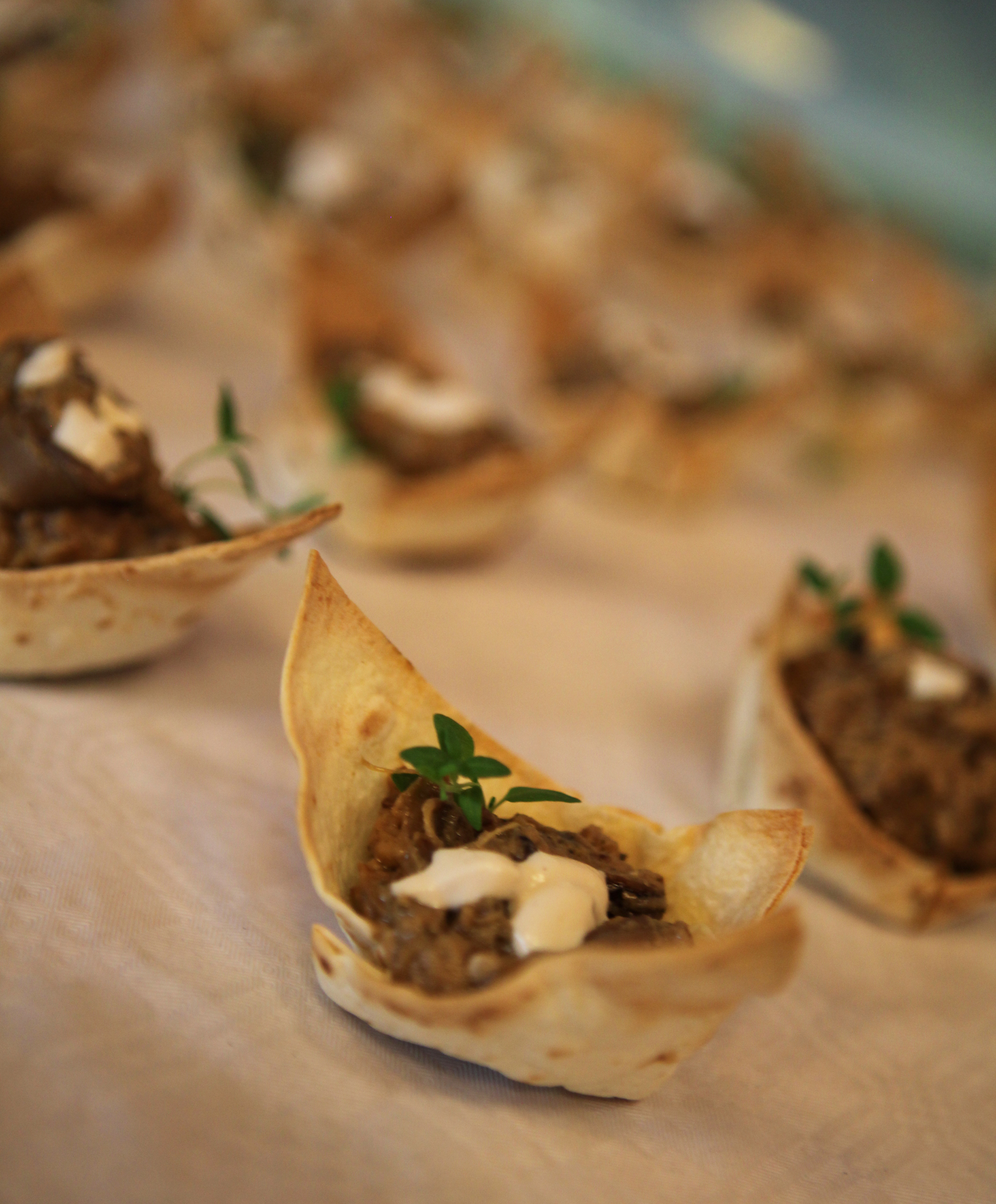 ....Kashk-e Bademjan..Käshke Bädemdjän....
....
Viestinnästä tekoihin Seminaari (From Communication to Action Seminar) took place in June 2014 at Lahti, Finland, as a part of UNICEF Young Designers' Poster Competition in Lahti Poster Triennial.
The event was organised by Aalto University, UNICEF Finland and the City of Lahti. The producer of the seminar, Muotoilijan aamiainen, ordered full course light lunch for the 50 guests of the seminar. Vahid Mortezaei™ served the guests Iranian food and drinks.
..
Viestinnästä tekoihin Seminaari järjestettiin kesäkuussa 2014 Lahdessa, osana Lahden julistetriennaalin nuorten suunnittelijoiden UNICEF-julistekilpailua.
Tapahtuman järjestivät Aalto yliopisto, Suomen UNICEF ja Lahden kaupunki. Seminaarin tuottaja, Muotoilijan aamiainen, tilasi kevyen lounaan seminaarin 50 vieraalle. Vahid Mortezaei™ tarjosi vieraille iranilaista ruokaa ja juomaa.
....
....Borani Esfanaaj..Boraniie Esfänaaj....
....
The menu consisted of Kashk-e Bademjan, Borani Esfanaaj, Faloodeh Shirazi and Sekanjabin as the drink.
..
Ruokalistalta löytyivät iranilaiset ruoat käshke bademdjan, boraniie esfänaaj ja falude shirazi sekä sekändjäbin-juoma.
....
....Borani Esfanaaj..Boraniie esfänaaj....
....
The Damask Rose is commonly used in the Iranian kitchen in different shapes –as dried, fresh and in the form of rose water. A rose with very similar characteristics, which grows in Finland, was used to decorate the food.
..
Damaskonruusua käytetään iranilaisessa keittiössä paljon, eri muodoissa -kuivattuna, tuoreena sekä ruusuvetenä. Ruoan koristelussa käytettiin Suomessa kasvavaa, hyvin samankaltaista, ruusua.
....
....Sekanjabin..Sekändjäbin....
....
Sekanjabin, the drink of the menu, is one of the oldest Iranian drinks made with honey and vinegar and flavoured with fresh mint.
..
Menuuseen kuulunut sekändjäbin-juoma on yksi Iranin vanhimmista juomista. Se tehdään hunajasta ja etikasta ja maustetaan tuoreella mintulla.
....
....
The dessert of the menu was Faloodeh Shirazi, a popular Iranian dessert, which is made out of frozen rice noodles.
..
Jälkiruokana tarjoiltiin jäädytetyistä riisinuudeleista tehty, suosittu iranilainen jälkiruoka, falude shirazi.
....