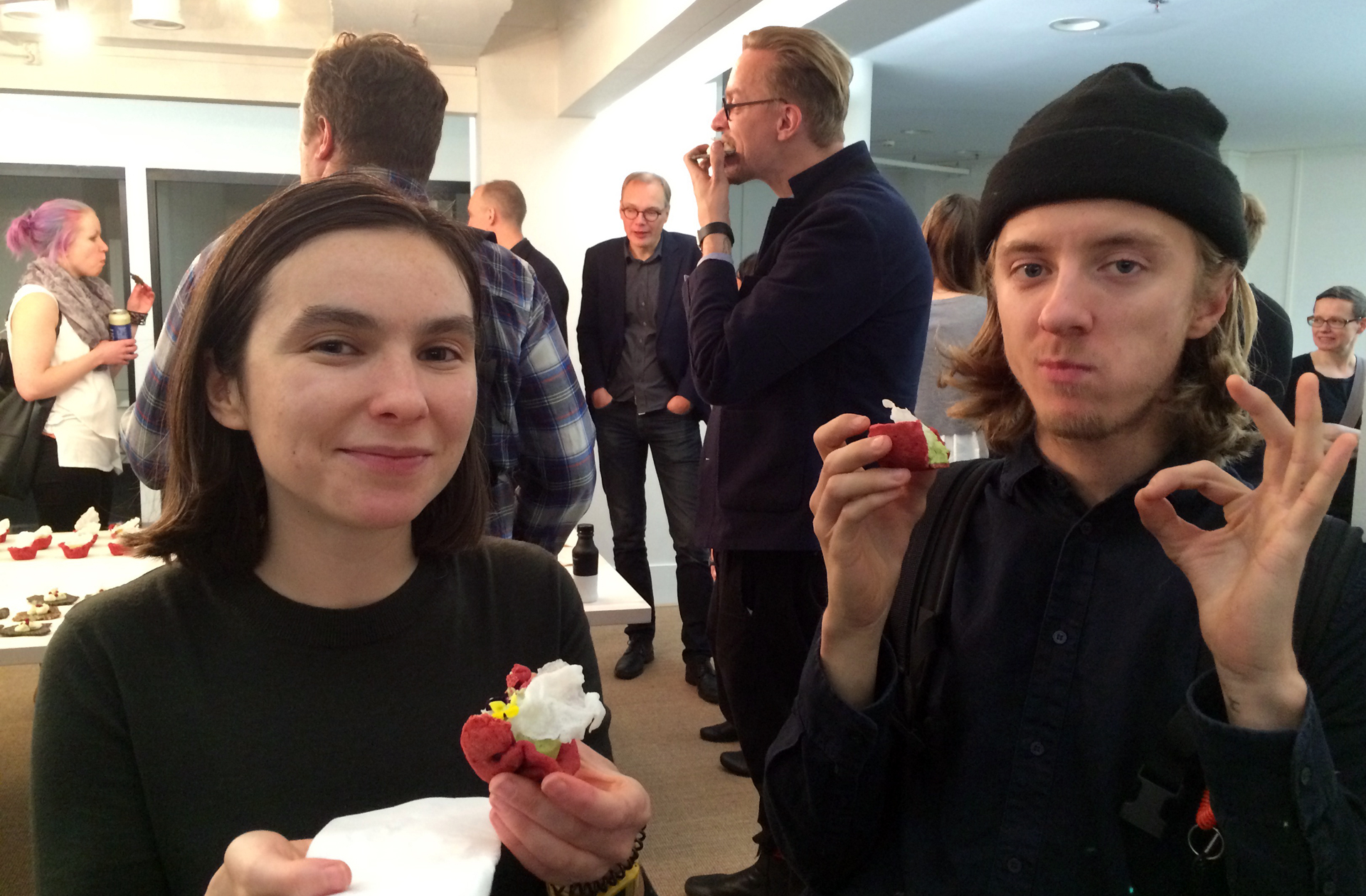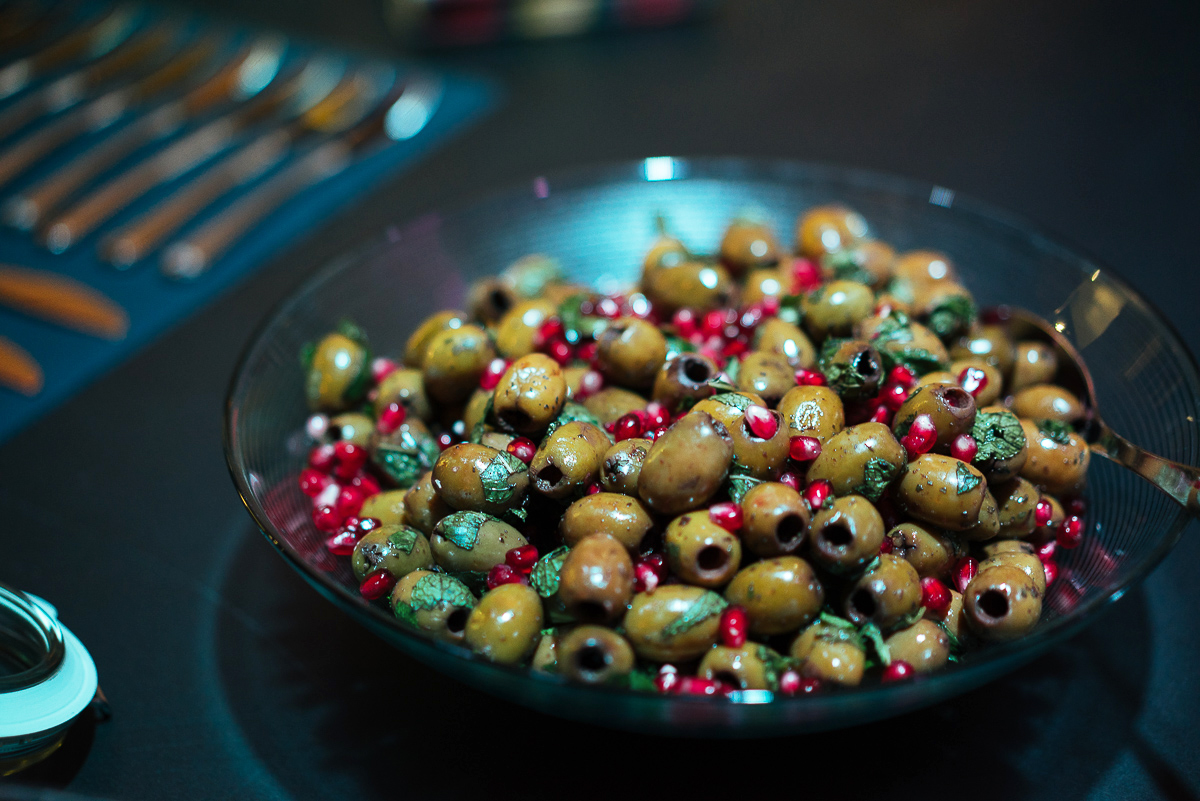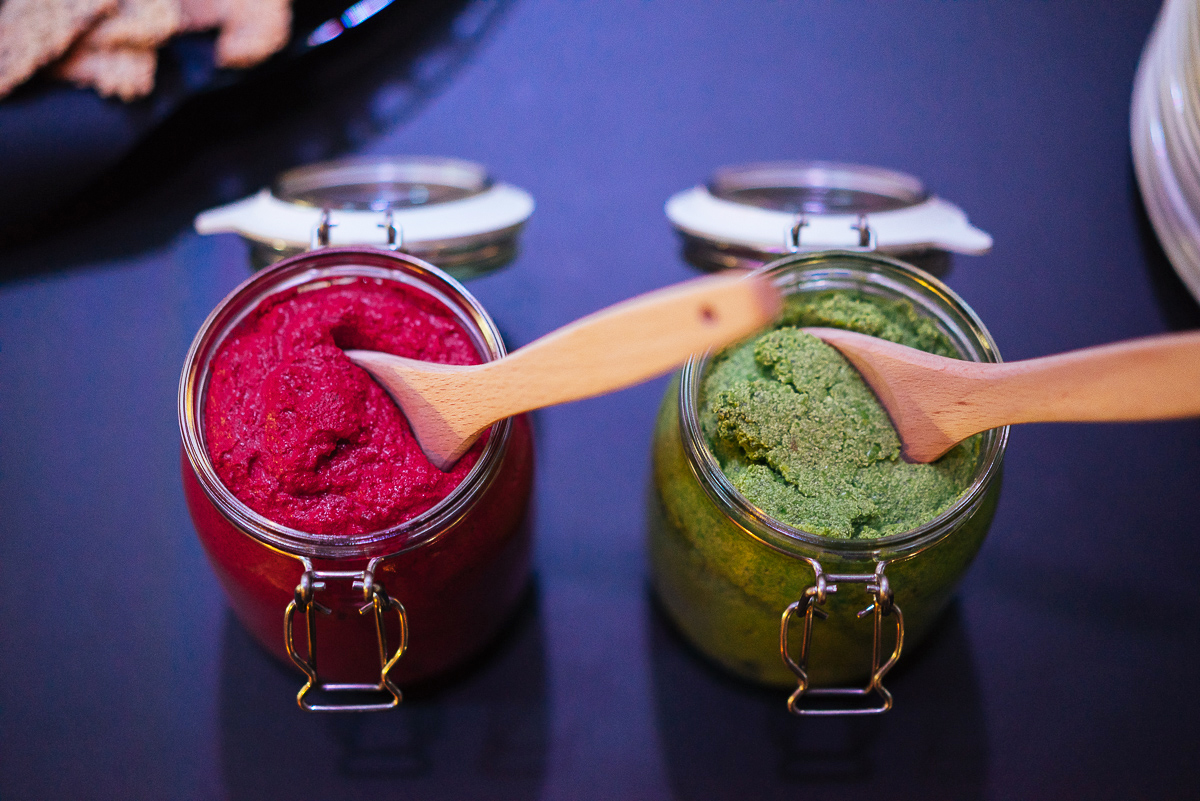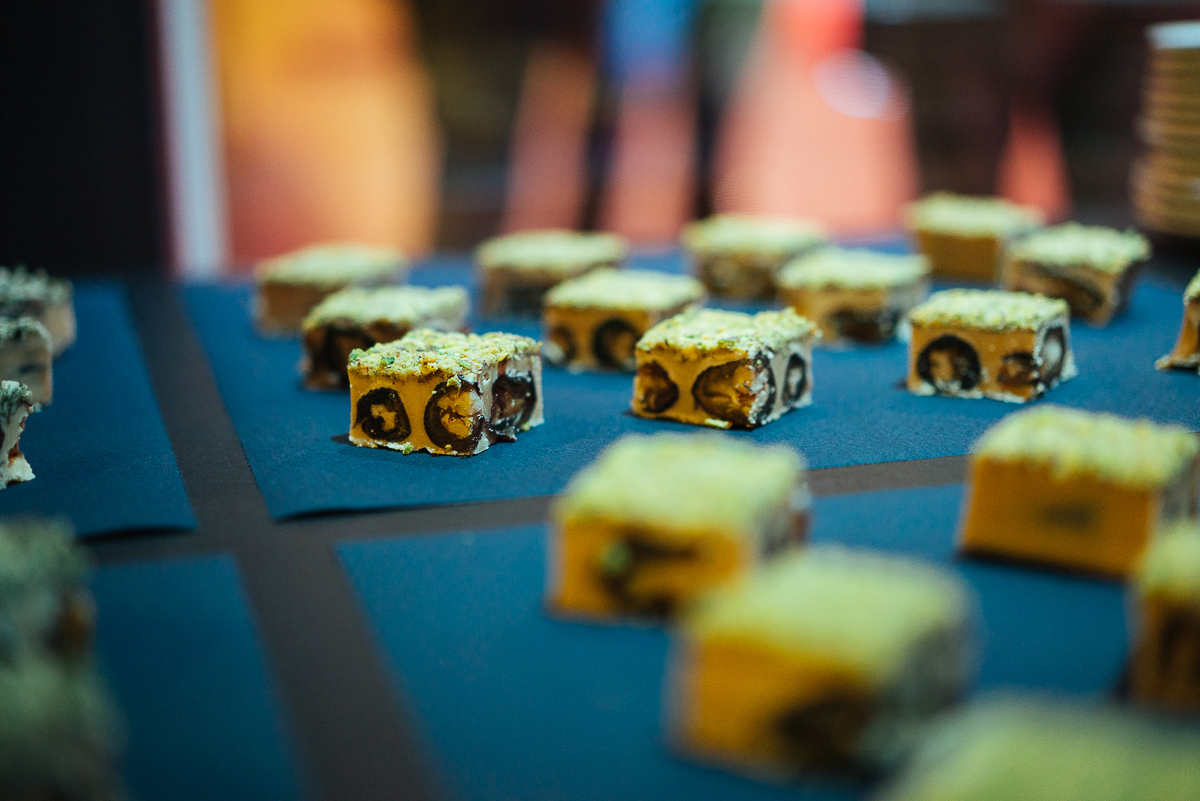 ....
The Finnish award winning design company, Nordkapp, hosted one of the monthly meetups of IxDA Helsinki in September 2014. Nordkapp ordered three different types of delicacies to be served to their 50 guests as light evening snacks.
..
Palkittu suomalainen designyritys, Nordkapp, isännöi yhden IxDA Helsingin kuukausittaisista tapaamisista syyskuussa 2014. Nordkapp tilasi kolme erilaista, kevyttä, iltapalaa 50 vieraalleen.
....
....
Plateless food is one of the main concepts that Vahid Mortezaei™ follows as a principle in its projects. The company avoids using plates, cutleries and any unnecessary packaging or wrapping. Gradually, this notion has become a part of the identity of the company.
..
Yksi Vahid Mortezaein pääkonsepteista on lautaseton ruoka, joka näkyy kaikissa yrityksen projekteissa. Yritys välttää tarpeettomien ruokailuvälineiden ja ylimääräisen paketoimisen käyttöä. Tästä toimintatavasta on tullut osa yrityksen identiteettiä.
....
....
Fennel-eggplant packages are delicate vegan finger foods, wrapped in filo dough and tied with a piece of chive.
The appearance of the packages puzzled some of the guests. They could not believe their eyes when they saw that it was edible. They supposed that the food was wrapped in paper and tied with a piece of green plastic thread!
..
Fenkolimunakoisonyytit ovat hienostuneita, filotaikinaan käärittyjä ja ruohosipulilla solmittuja, vegaaneja sormiruokia.
Jotkut vieraista olivat ymmällään nyyttien ulkonäöstä. He eivät meinanneet uskoa silmiään huomattuaan nyyttien olevan syötäviä, vaan luulivat ruoan olleen kääritty paperiin ja solmittu vihreällä muovinarulla!
....
....
We do not only cook carefully to create pieces of art but also take care of the presentation. We put the pieces together at the place to create an art installation for you and your guests.
..
Luodaksemme kulinaristisia taideteoksia emme yksinomaan laita tarjoamaamme ruokaa huolella vaan pidämme huolta myös sen esillepanosta. Yhdistelemme tarjoamamme ruoat siten, että niistä muodostuu taideinstallaatio, jota sekä sinä että vieraasi voivat ihailla.
....
....
Vahid Mortezaei™ got all its fame with these tiny colourful delicacies called Ränginäk. It actually means "tiny colourful" in Persian language. They are aesthetic, irresistible and loved by almost everyone who tried them.
..
Vahid Mortezaei™ on niittänyt eniten mainetta näiden, pikkuruisten ja värikkäiden herkkujen avulla, joita kutsutaan nimellä ränginäk. Ränginäk on nimensä veroinen herkku -se tarkoittaa pikkuruista ja värikästä palasta farsin kielellä. Ränginäkit ovat esteettisiä, vastustamattomia, ja melkein kaikkien niitä maistaneiden rakastamia.
....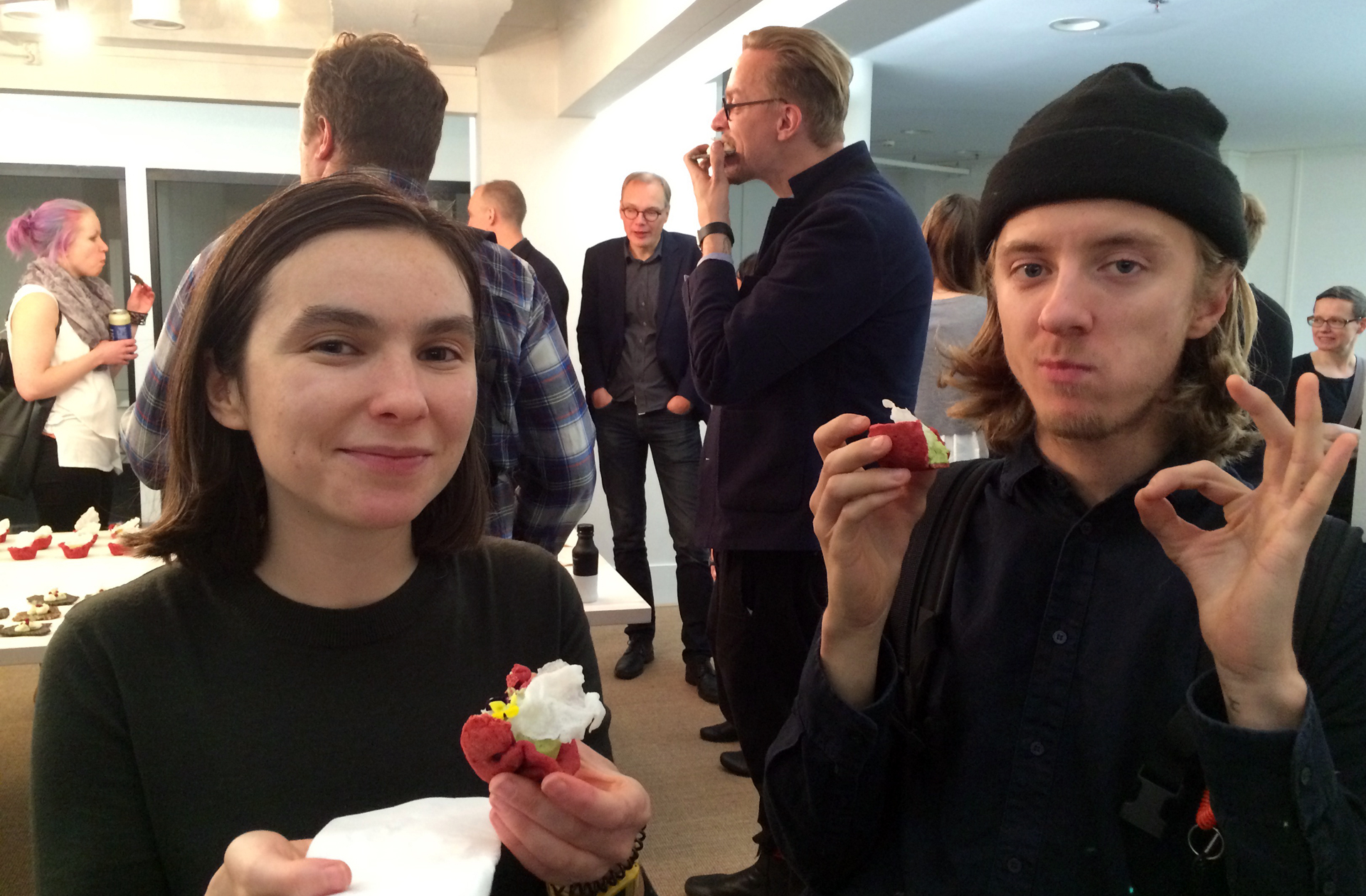 Linja Design Oy
Linja Design's story is part of the history of Finnish design, which began in Helsinki's Punavuori neighborhood way back in the fall of 1986. The company celebrated its 30th birthday In winter 2016 by inviting all previous and current colleagues to their Helsinki office. We were honoured to prepare dinner buffet for the celebration. [all images © 2016 Shengjun Shi]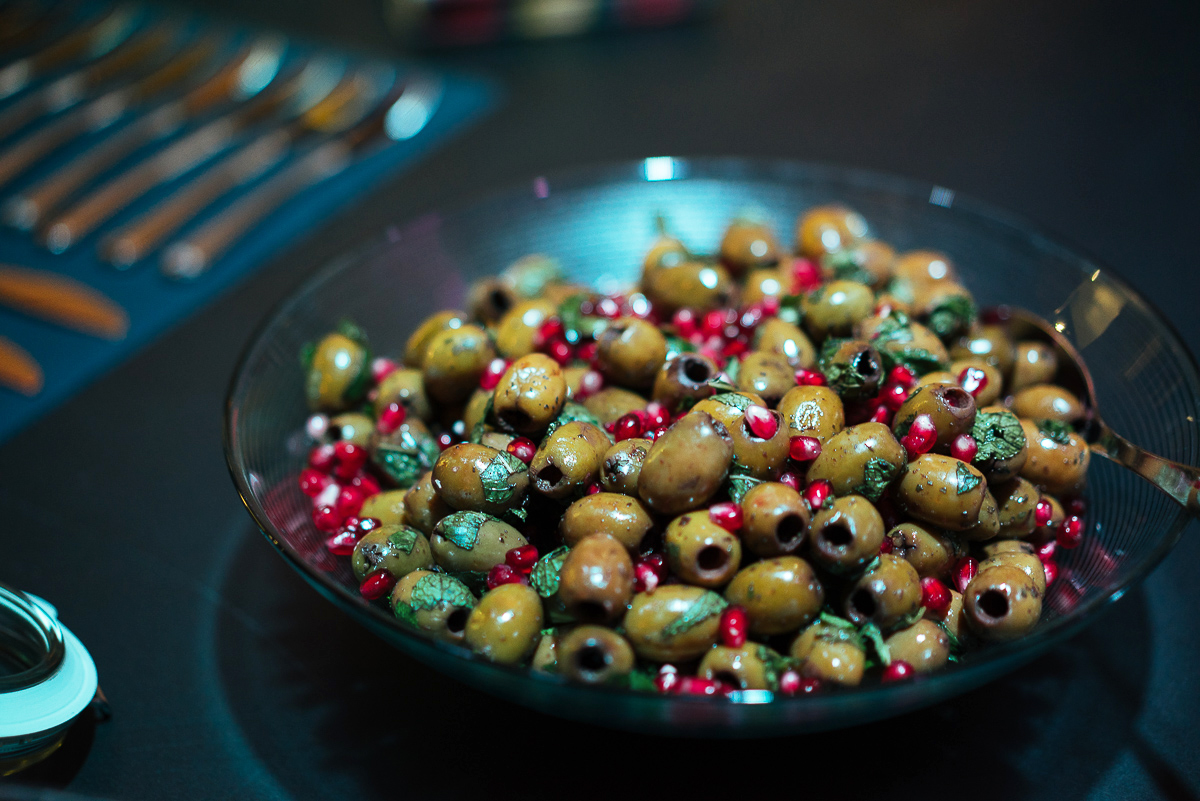 Marinated Olives
Green olives were marinated with pomegranate molasses, Persian hogweed seeds and dried mints.
Spiral Quiche
Slices of zucchini, carrot, and eggplant created this psychedelic looking quiche.
Seeds Crackers
Black and white sesame seeds crackers were offered with beetroot and green peas pastes as starters.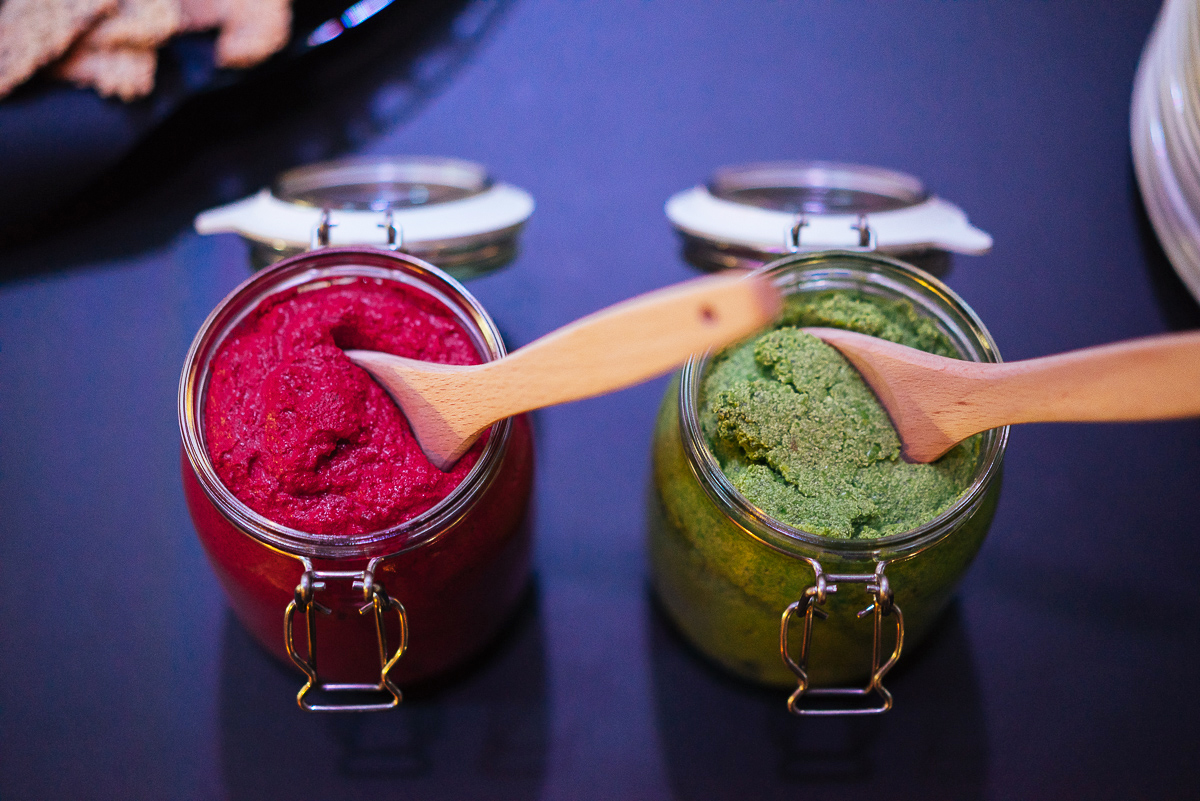 Beetroot & Green peas pastes
Colours are as important as tastes for us. We try not to just keep the natural colours of the ingredients but to make them brighter and more vibrant.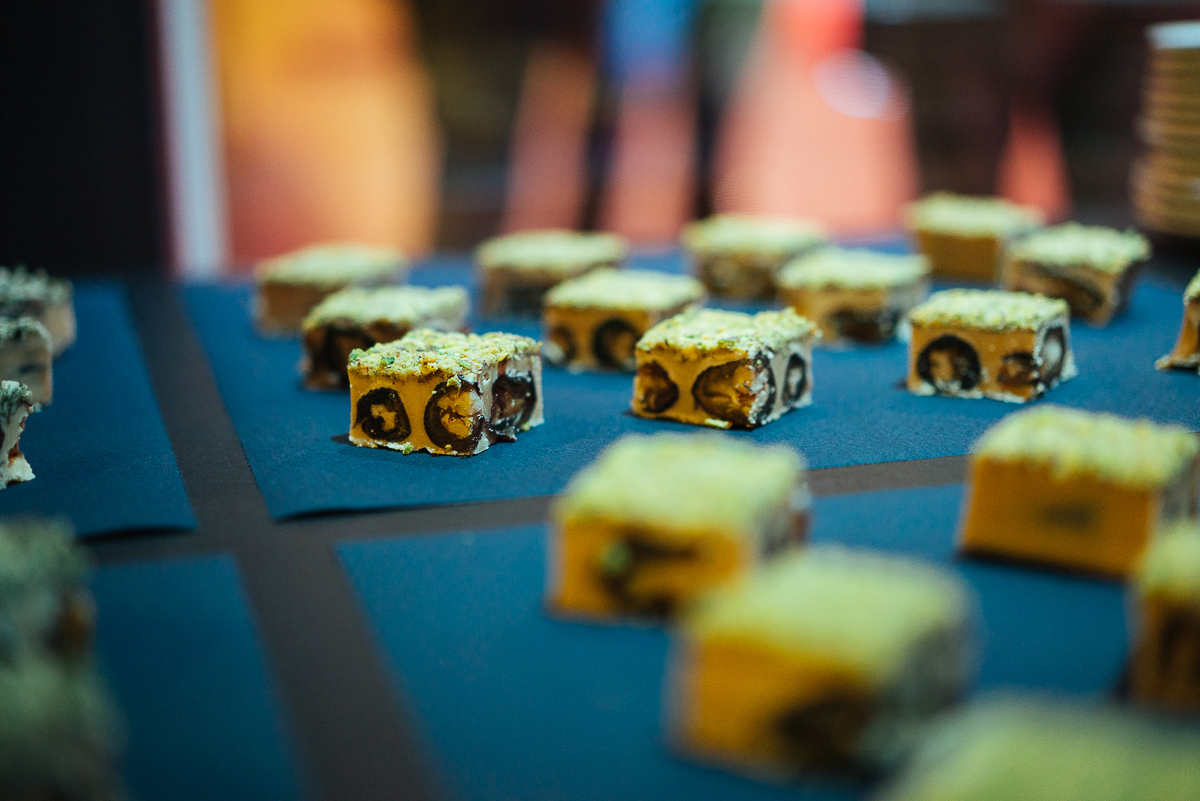 Gluten Free Ränginäk
We baked our popular ränginäk many times but this was the first time that one of our clients asked for gluten and nut free ränginäk. Ränginäk is walnut-stuffed fresh dates glued to each other by hot roux and covered with pistachio, which means it is full of gluten and nut. Emotionally it was very difficult for us to change the traditional recipe but we did it. We replaced nuts with seeds and wheat flour with rice one. The result really healed our hurt emotions.